Floating Lights
These floating light Halloween decorations will make your home look like the Harry Potter Great Hall.
You Will Need:
Cardboard from toilet paper rolls
White spray paint
A glue gun and glue stick
Clear string
A battery operated LED light
Method:
The final project will look like candles. You'll need to apply a glue "drip" around the toilet paper roll, paint it white, attach the string, put in the LED light, and then hang several of these lights for an epic ambience. Check out A Few Short Cuts for more details.
Potion Bottles
Make these fizzing potions for a unique and creative Halloween decoration.
You Will Need: 
Bottles
Water
Vegetable oil
Food colouring
Alka-Seltzer tablets
Method: 
Pour oil into the bottle, about half way to three thirds fill. Then fill up with water. Add a few drops of food colouring. Drop in portions of the tablet, and your potion will immediately begin to fizzle. Try using different shape and colour bottles with different coloured food colouring. Find more at Curious and Geeks.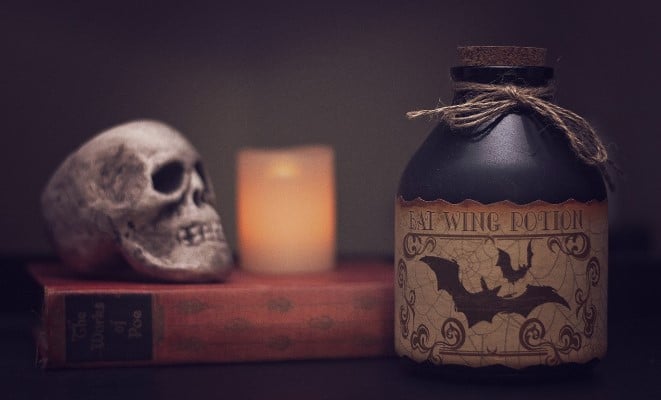 Hanging Bats
Kids can spend hours making these adorable paper bats. Hang them around the house with prestick for fun Halloween decorations. Alternatively, hang some string running from one end of the house to the other and have your very own bat cave.
You Will Need: 
Black paper
Tracing bowls
Bought googly eyes
Glue
White pencil or crayon
String or prestick
Method: 
Cut out two different sized circles and ears from the paper. Fold the larger circle in the style of an accordion and then cut it in half. Glue these halves and the ears to the circle. Stick on the googly eyes, draw on a mouth and display. See I Heart Craft Things for more.
Gut Slime
It may baffle us, but for some reason kids just love slime. So this craft is the perfect DIY for both fun and icky Halloween decorations.
You Will Need:
Craft glue
Borax
Water
Food Colouring
A jar to display it in
Method: 
Mix the glue with some water and food colouring. Then mix some water with borax. Slowly mix the borax and glue mixtures together. Use green food colouring for monster slime, purple for witch's slime or red for blood and guts slime. Follow the recipe on ThoughtCo. for exact measurements and instructions.
Ghosts
These ghosts are made out of hardened cheesecloth. Display them over a light for a spooky decor feature.
You Will Need: 
Cheesecloth
White Craft Glue
Googly eyes or black paper
Empty bottles
Balls (for shaping)
Method: 
Start by making a base structure that will give shape to your ghost. This can be made in any desired size. This can be done attaching a styrofoam ball, or any ball, to an empty bottle. Next, take a piece of cheesecloth and completely immerse it in the glue. Hang the cloth on the base shape and allow to dry until hardened. Glue on googly eyes or black paper circles. Consumer Crafts has more information.
Spider Webs
These will keep the kids busy for hours. It's made out of paper plates and string and easy enough for kids of all ages to make, with adult assistance.
You will need: 
Paper plates
String
Glue or tape
Method: 
Cut a hole out the centre of the paper plate. Use a punch or scissors to make holes around the centre. Criss cross the string through the holes to create a web effect. Tape or glue the ends of the string to the back of the plate. Attach a plastic spider to the web, or use the removed centre of the paper plate to make a paper spider instead. You can use black paper plates, or have the kids decorate them how they please. See No Wooden Spoons for more.