JB's Corner
One of the most popular all-round restaurants in the Arch, JB's Corner is a great place to order a burger and a beer and watch the Roll's Royce's and McLarens roll by. But we're not here to talk about cars that cost more than family homes in Douglasdale, we're here to talk about Drake's favourite burger spot in Joburg. Yeah, that's Drake. In 2016, for two nights in a row, Drake went for dinner at JB's Corner in Melrose Arch. The restaurant brags with a handful of burgers on the menu but what stands out for us is the BBQ Mexican burger topped with guacamole, salsa, crumbed feta, and chilli.
Details: http://www.jbscorner.co.za/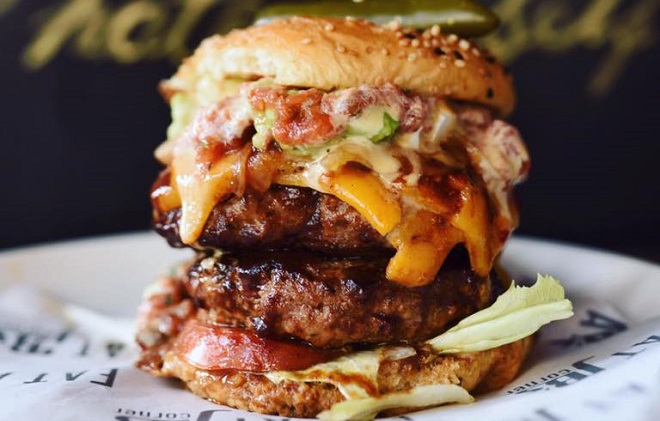 RocoMamas
Over the span of something like three years, RocoMamas has gone from a little burger joint in Randburg to the country's most famous and outrageous spot to grab a fun and funky meat (or veg) sandwich. The RocoMamas at Melrose Arch acts as a haven for Joburgers who eat halal (they replace the bacon with macon made from mutton or beef). Do yourself a favour (and if you like something spicy) order the Chilli Cheese Bomb and pair it with a serving of fully loaded fries topped with cheese and chillies. If you fancy something with less heat, then perhaps check out the Slacker: 3 x 100g Beef Smash, 3 x slices of aged cheddar, sweet pickle & RocoMayo... and then maybe go for a jog and eat cholesterol lowering food for a while. Also, you can just build your own smashburger - the sky's the limit.
Details: https://www.rocomamas.com/
Jamie's Italian
Yeah, yeah an Italian place is the last joint you'd expect to find a good burger... but then again, we're talking about the Naked Chef, Jamie Oliver here. Patrons can dig into a grass-fed beef patty with balsamic onions, Gruyère cheese, baby gem lettuce, tomato, pickles and chillies. Complete the eating experience by adding Posh Chips (French fries coated in truffle oil and Parmesan). This combination can be rounded off with a flute or three of prosecco... It is an Italian restaurant, after all.
Details: https://www.jamieoliver.com/italian/south-africa/
Piza ē Vino
Do yourself a favour and head to the bar at Piza ē Vino on a Friday from 4pm to 6pm for happy hour (buy one get one free), and check out the burger section on their menu. We suggest you take a bite out of all of them but that you start with the Mama Mia. This lovely thing consists of a beef patty with gorgonzola, bacon, tomato chutney, and rocket. All burgers are served with handcut chips or a salad.
Details: https://pizaevino.co.za/melrose-arch/

Tasha's
The heart of Tasha's can be split into two section: 1. their food is good. 2. Their service is amazing... and the third bit would be their take on the classic hamburger. At Tasha's Cafe you can grab two 125g homemade mini beef burger patties built up with red onion, tomato, and gem lettuce served with fries... and if you add an extra R5 (at the time of writing) you can change that burger into a... cheese burger!
Details: http://www.tashascafe.com/
By Shawn Greyling