Gluten Free Foods 
With all the upcoming trends, new dietary preferences and requirements, it can be hard to find places that offer gluten-free food. Many have switched to gluten-free food because they feel it is healthier. Others are allergic to gluten and have no choice but to go gluten-free.
But this doesn't mean you have to give up all your favourite food. There are many restaurants and eateries across Joburg now serving delicious gluten-free options.
Fruits And Roots Health Store And Restaurant
Fruits and Roots is an organic food based spot. They craft food and beverages that are packed with natural ingredients to keep your body well fueled. Their restaurant uses the best ingredients to make you a healthy and tasty meal. They have a wide range of gluten-free foods, a vegetarian buffet and a juice & smoothie bar.
Address: Hobart Corner Shopping Centre, Hobart & Grosvenor Roads, Bryanston, Johannesburg, Gauteng.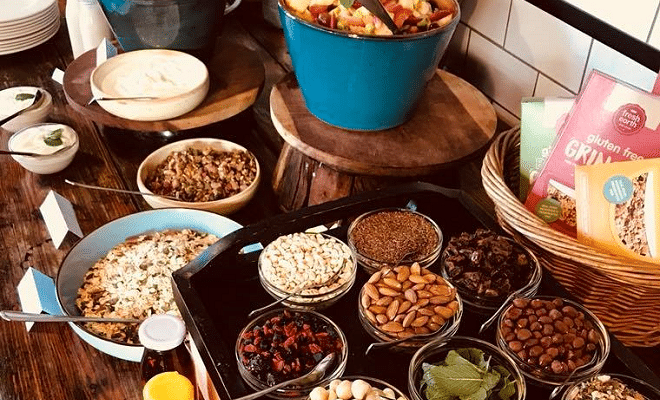 Fresh Earth Bake House
The Fresh Earth brand, as the name suggests, is all about freshness. The Fresh Earth Bake House makes some of the best bakes for you to enjoy. Whether you want something to eat on the go or are looking for gluten-free goods, this is the place for you. Their wide range of products includes breads, rusks, muffins, granola, pizza bases, wraps and so much more.
You can also visit the Fresh Earth restaurant for a lovely meal.
Address: Fresh Earth Bake House, 14 Mandy Road, Reuven, Johannesburg, Gauteng.
Free Food
Free Food is a restaurant that specialises in food that is not only fueling, but healthy and delicious. They have seasonal menus that cater breakfast, lunch, dinner and dessert.
Free Food also has a deli for you to grab something to take home.
Address: Shop 5 Reithmere, Delta Road & Corlett Drive, Birnam, Johannesburg, Gauteng.
What is your favourite gluten-free spot? Let us know in the comments section below!