The pandemic really took it out of us. Plus, global stress levels are on the rise, the world is speeding up, and we're all struggling to jump off the proverbial treadmill without getting badly injured. Issues around mental well-being are also getting some well-deserved spotlight. Add all these factors to the reopening of borders and we're seeing a serious boom in wellness tourism to the tune of $919 billion – it's projected worth by 2022.
So, you want to take a break that ups your zen factor? Here are five of the top wellness tourism destinations to stay (and play) in Mzansi. Breathe in. Breathe out.
The ideal wellness tourism destinations are establishments that don't require you to get anywhere near four wheels for a few days – somewhere where you have everything you need and want, all in one place. Enter Ghost Mountain Inn, situated in the heart of Zululand.
Forget those cumbersome things called shoes and take a meditative walk, barefoot, through five-acres of verdant rolling gardens. You'll forget all about the hustle of city life. Onsite at the Inn is a decadent spa that offers a range of body and skin treatments (with Dermalogica products nogal). You can even rediscover your zen at the rock pool – yes, there's one of those onsite too.
Fancourt | Western Cape | George
You don't have to be kwaai at golf to visit Fancourt. What many people don't know, is that besides being an award-wining, world-class golfing estate, Fancourt is a luxury destination that's designed for wellness.
This is no, "meh" spa. It's a regte egte spa bra, with all the bells and whistles. Inspired by the harmony of the four elements, the Spa at Fancourt is fitted with a Roman Bath (please don't forget to pack your toga – or a white sheet at the least), a Jacuzzi, sauna, steam room and a tepidarium equipped with heated seats that gradually elevate the body's temperature to improve circulation and promote deep relaxation. Sounds lekker ne?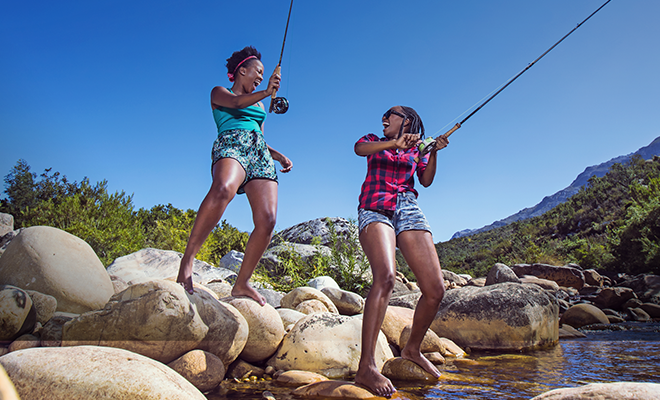 Just Google daai deng mfowethu – You'll instantly be transported into another dimension. It's where you go when you want to be treated like African royalty. You can sit at river's edge and enjoy a cocktail while you soak up the sun and forget that there's even a reality between this paradise. Each section pays homage to a part of Africa.
At the African Islands section, you can take a dip in the crystalline pool. At POIKIE Restaurant, you can enjoy traditional African stews, cooked in a potjie. Then there's the Taste of Morocco Bedouin tent, where you can enjoy Moroccan cuisine to the sound of the gushing river. There's also the Mombasa Supper Club, which can only be described as a "culinary safari." For fitness fanatics for whom wellness means getting the blood pumping, there are cycling trails and expansive grounds for jogging and leisurely strolls.
Spier Hotel | Western Cape | Stellenbosch
Four-star mense and nothing less. At the Spier Hotel, rooms are clustered around six beautiful courtyards, each with their own swimming pool. Décor and design-wise, it's like walking into your tannie's house in Bo-Kaap (just more boujee) or into a Mediterranean village.
You can have a meander along tree-lined avenues through indigenous gardens, on a circular route that will take you on a sensory route through the estate. The onsite Elemental Garden is an ode to the four elements and features a spiral walkway that's perfect for a meditative stroll or pause to appreciate the scenery. And of course, there's the spa, where you can get the works – detox treatments, massages, reflexology, aromatherapy – alles.
For More Information
For more information on what beautiful South African wellness destinations lay and wait for you to explore, visit www.shotleft.co.za.
You can also contact Sho't Left on 011 895 3000 and [email protected].
Don't forget to check them out on their social media platforms – Facebook, Instagram, and Twitter.