What inspired you to start your own clothing line?
Because of my small frame and quirky sense of style, it was difficult to find clothes that fit my personality and body in shops. So, from about the age of 17 I started spending all my pocket money on tailor-made clothes. Increasingly people started asking me where I got my clothes from, as they were unusual. That turned into me making clothes for other people. So it was a very organic process; I never set out to start a clothing line.
Did you study fashion design or are you self-taught?
I'm mainly self-taught – I watched my mom sew growing up and have taken sewing lessons. I studied film and media and I think those influence my design choices a lot.
Tell us about the reasoning behind your brand name and the fabrics you use?
Naturelle Fibre relates to clothing that captures the epitome of who you are – without trying too hard. We want our clothes to be functional yet elegant and feel like an expression of your best self.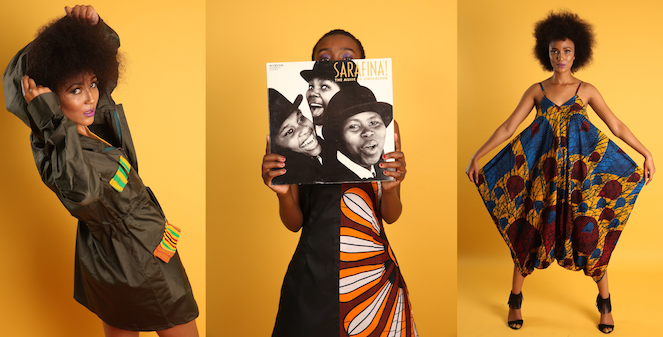 In what ways have you grown as a fashion designer since starting your own line?
I've definitely grown in terms of 
garment structure and planning ranges
 in advance so they are ready for the correct season.
What is the most constructive criticism you've received from a client/customer?
I pitched my clothing to SA Fashion Week and they told me to be harder on my factory because my designs are timeless but the quality of the finishes jeopardised the garments. I have since gone back to my CMT and tightened quality control right down to the last stitch. The clothes look amazing and will also last longer because of the attention paid to ensuring the best quality possible.
Which Joburg fashion designer/s do you look up to?
I love Machere for their garment structure and hustle, Mantsho for their longevity and Butan Wear for their innovation.
What would you like to see more of from other Joburg designers?
Collaboration and mentorship.
What do you think about the fashion trends in Joburg?
I love that we are owning our Africanness so beautifully. I think there's still a lot of room for classy individual expression, because some people try too hard with fads and end up looking, quite frankly, ridiculous and like bad imitations.
Do you have any advice for aspiring fashion designers?
Don't try to be someone else, the world needs you to express your unique style so that we have a richer tapestry of stories and design. Be yourself, it's so beautiful.
Is your clothing avalible nationally? Internationally?
We have pop-up events in Cape Town, Tshwane and Johannesburg. We ship to SADC region and are expanding to Europe and Canada.
Photo Credit: Ndumiso Sibanda
Find out more information about Naturelle Fibre here.