Get Ready For Autumn
Our skin is a living, breathing organ, and it's constantly adapting to our weather, surroundings and environment. And as the seasons change, our skin goes through a transition period, which may leave your skin dull or feeling drier and needing more nourishment after our hot South African summers. To get your skin autumn ready, use exfoliators, masks, serums and moisturisers to help repair any damage and give your skin a boost.
Step 1: Exfoliate
Start off your autumn skincare routine by gently removing the build-up of dead skin cells to renew your skin. This allows for any booster products such as serums and moisturisers to work more effectively.
Placecol Gentle Exfoliating Treatment 30 ml – R360
A non-abrasive enzymatic exfoliator which gently removes surface dead skin cells to reveal glowing, radiant skin.
Placecol Body Exfoliator 250 ml – R395
A safe, lactic acid powered body exfoliator which gently exfoliates and feeds, resulting in softer, more even-toned and radiant skin.
BIOEFFECT Volcanic Exfoliator 60 ml – R650
A clarifying facial exfoliator containing micro-crystalline lava and ground apricot seeds that remove dead skin cells from the skin's surface, leaving it soft and smooth.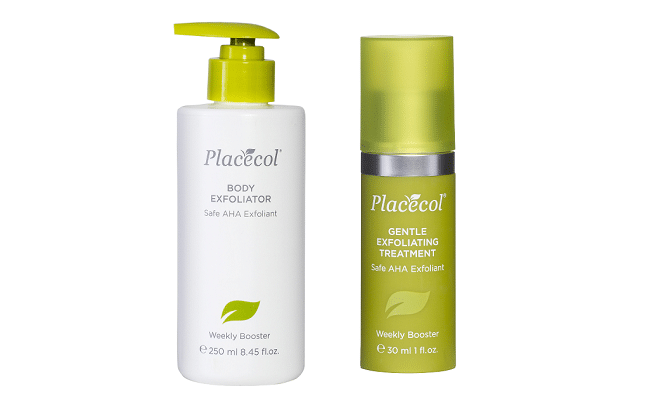 Step 2: Mask 
Now onto rejuvenating your skin with a nourishing face mask. Counteract the effects of summer and the harsh South African sun with a restoring mask.
Placecol Optimum Hydro Mask 50 ml – R310
A moisturising, hydrating and replenishing treatment to restore suppleness. This mask can be used overnight for hydrated soft, supple skin.
Placecol Clearing Scrub Mask 50 ml – R310
A 2-in-1 exfoliator made up of spherical beads, which gently buff away surface dead skin cells, whilst Kaolin clay deep cleanses.
Step 3: Serum
Next on your autumn skincare regime is serum. Choose the best serum to target your current skin concern.
For Dehydration: Placecol Collagen Reconstruct Therapy 30 ml – R330
This serum is used twice a day to stimulate collagen production, which acts as a net within the skin, to hold onto mois- ture and rehydrate the skin.
For Pigmentation: Placecol Vitamin C Radiance Therapy 30 ml – R330
An intensive serum with a brightening effect on the skin, and which assists in alleviating hyper-pigmentation.
For Breakouts: Placecol Clear Skin Therapy 30 ml – R330
Combines salicylic acid to deep cleanse the skin with the natural antiseptic properties of tea tree.
Placecol Excellence Brighten Solution 25 ml – R690
Ideal for more severe pigmentation. This solution contains nine active ingredients, including salicylic acid and retinol, to assist in cellular repair, as well as arbutin, which assists in regulating pigmentation production.
Step 4: Moisturise
And last but certainly not least, moisturise! Use a moisturiser for your skin type or skin concern to rehydrate and deeply nourish your skin.
For Oily, Problematic Skin:
Placecol Matt Radiance Day 50 ml – R420
Placecol Matt Radiance Night 50 ml – R440
For Normal & Combination Skin:
Placecol Maximum Hydro Day 50 ml – R420
Placecol Maximum Hydro Night 50 ml – R440
For Dry, Sensitive and Ageing Skin:
Placecol Barrier Protect Day 50 ml – R420
Placecol Barrier Protect Night 50 ml – R440
For More Information
For more information about Placecol and their range of skincare products, visit www.placecol.com.
You can also contact them on 0861 11 22 22 or [email protected].
Don't forget to follow Placecol on Facebook, Twitter and Instagram to keep up to date with their latest offers, products and news.