Days In The Countryside @ Irene Farm
With decadent milkshake tastings (available on weekdays), delicious wood fired pizzas and plenty of fun-filled activities to entertain the kids, be sure to pencil in a couple of visits to the Irene Farm, which everyone will enjoy.
Parents can relax, unwind and enjoy the outdoor atmosphere, whilst the little ones explore, climb and have a blast on the jungle gym, play on the tractors, or watch the cows being milked. Take your bicycles along with you and enjoy even more of the farm on the pathed tracks – a family favourite activity.
The farm in the city is known for its fabulous offerings and awesome hospitality – being just a short drive from Johannesburg, it really is a must to add to your calendar. Read more here.
Picnics & The Charolaise Lawn Area @ Irene Farm
Lush green lawns with fresh aromas of delicious meals and the happy sounds of people laughing and enjoying themselves – a picnic or intimate event at Irene Farm is ideal.
Irene Farm's Charolais Lawn, situated close to the kiddies jungle gym, is ideal for birthday parties, stork teas, kitchen teas or any other special occasion. Or book a picnic in their lush farm field.
Visit their website for more details.
Terms & Conditions apply.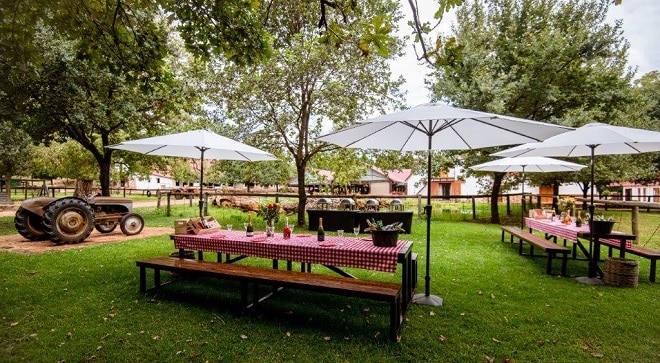 Irene Farm is the ultimate family hangout with an adventurous jungle gym, antique tractors for exploring and farm animals to see. Parents get to relax whilst the kids are entertained.
For More Information
For more information about the Irene Farm and their latest offers and events, visit www.irenefarm.co.za.
You can also contact them on 012 667 4822 or [email protected].
Don't forget to follow them on Facebook, Instagram and Twitter for the latest news, offers and specials, information, events and more.