Joburg city is such a peaceful place during December. To boot, it has some of the most wonderful hangouts, boutique stores, and entertainment venues in the province, and the best part? No traffic and no ques. And we thought, hey with DiDi entering the local ride-hailing arena, we might as well go and explore Egoli without having to worry about driving ourselves around – it's Dezemba anyway.
Grab your phone, download the DiDi-Rider app from Google Play or the App Store, and let's get cracking!
Festival Of Lights
Joburg Zoo, The City of Johannesburg and Joburg Theatre proudly present their annual Festival Of Lights. Open daily from 19:00 to 22:00 (except on Mondays), visitors will get to enjoy the magic and beauty of enchanting, illuminated life-size animal characters that are sure to delight guests of all ages. The Joburg Zoo Festival of Lights will also offer exciting entertainment, delicious nibbles and a craft night market perfect for some festive shopping. Tickets to this stunning event cost R150 per person and children under 3 years of age enter for free. Click here to get your tickets now.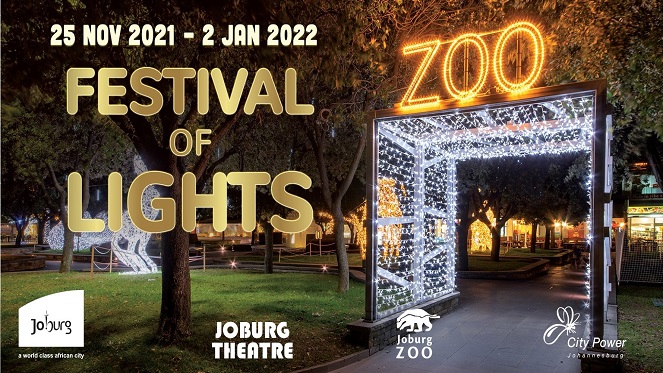 Destination Christmas At Melrose Arch
Destination Christmas at Melrose Arch is a firm favourite for both young and old. Every year, the precinct puts on a dazzling display of festive Christmas lights, featuring a golden carriage, a Chinese dragon, a picturesque snow scene and all your favourite Christmas characters, all coming together to create a magical atmosphere. Bring your whole family to the precinct for the enchanting light display. Please remember that when you visit Destination Christmas, you are required to wear face masks at all times and adhere to social distancing protocols. Click here for more information.
Festive Shopping At Sandton City
Sandton, beautiful Sandton! We all know it's the richest square mile in Africa (and most likely the entire southern hemisphere). And we all know that it's home to many of the finest hotels and accommodation hangouts in all of Johannesburg. Also known as the shopping capital of Africa, Sandton hosts shoppers from across the continent on a weekly basis. Each year Sandton City goes out of its way to accommodate shoppers over the festive period. This includes an exciting festive village, a visit from Santa and extended trading hours. Because of its central location, getting yourself to and from Sandton City is made easy with your reliable ride-hailing partner, DiDi.
Montecasino Bird Garden
Consider it a bird oasis in the urban jungle, and "the only bird park of its kind in Africa". With over 100 unique and exotic bird species, reptiles, and small animals that range from pelicans and flamingos to iguanas and antelope. Get an eye-full of these magnificent creatures from the elevated wooden walkways overlooking the aviaries or take a leisurely stroll through the amazing gardens that boast "the largest, most diverse private collection of South African Cycads in the world". After some exploring, settle down for lunch at the Flamingo Café and appreciate the sights and sounds around you.
Vilakazi Street
The only road in the world that has had two Nobel Peace prize winners living in it. Vilakazi Street is the most visited street in Soweto. Home to the late former present, Nelson Mandela and Archbishop Desmond Tutu, who still resides there with his wife Leah. The street also has a few museums - The Mandela House Museum and The Hector Peterson Museum attract a lot of locals and tourists interested in the history of South Africa. Vilakazi Street's popularity has grown over the years. Restaurants such as Nambitha and Sakhumzi serve local cuisine, which is great for tourists and locals looking to experience authentic South African food. The street is also home to Soweto TV - the only community television in the city of Soweto.
The Playground
When South Africa went into its first lockdown in March 2020 it took with it one of Joburg's most vital city attractions – the Saturday Neighbourgoods Market in Braamfontein, since 2011 a city institution and a magnet for local and international visitors. Since its founding the market had seen almost 2-million visitors pass through its alleyway entrance, changing the way people experienced the city, and creating a landmark for the district of Braamfontein. On December 4 2021, The Playground will open at the same location – at 73 Juta Street, and again change the way that weekends are spent in Joburg.
DiDi Will Get You There
The latest ride-hailing app to launch in South Africa went live in Gauteng in August 2021. But how does it compete with an already saturated market? Well, we can confirm that it holds its ground when going head-to-head against Uber and Bolt, that's for sure!
The question remains. Why should you use DiDi instead of the other guys? Well, DiDi offers:
Affordable fares: Let your Rand travel further with DiDi's everyday low fares and offers.
Quick and reliable: Your ride is ready in minutes. Break free from timetables and request a ride on your own watch.
Happy drivers: With an average industry-leading services fee, every ride taken with DiDi allows South African rideshare drivers to earn more of the fare.
Download the DiDi-Rider app from Google Play or the App Store, and set up your account today. The world is yours with exciting discounts and ride offers.
Much like its competitors, DiDi accepts cash or card payments – bank cards can be loaded straight to the app making payment seamless once the ride has been completed. The app provides an estimated price for each trip before the ride is booked. There are two ride options to choose from Standard or Go, with Go being the more affordable option.