This Greenside event features all the most popular vegan stalls in the city. They have stalls for Africa, covering food, clothing, esoteric stuff, pets, cosmetics and even charity. Throw some live entertainment, yoga workshops and live cricket games into the mix, and you've got an event even non-vegans would love to attend. The best thing about this market? Dogs are allowed. Yes, you can take your four-legged fur friend along to join in the fun, as long as he / she is well behaved and social. The stalls here may change month to month, but we were lucky enough to catch some favourites that return often.
Walking in, a bright pink stall catches our eye. This is Vegeata, a food stand that produces what is possibly the most sought-after vegan food in the city. We tried the Jackfruit Nachos, the Tofu Bao Bun and the chocolate doughnut and I am ashamed to admit that we utterly gorged ourselves here (sorry, not sorry). The nachos alone were enough to generously feed two people. Just imagine an assembly of tortilla chips, tomatoes, sour cream and pulled Jackfruit drenched in a barbecue sauce - how could you not want to indulge in that? It was a bit of a wait for the Bao Bun, but it was well worth it. We are talking about a fluffy activated charcoal infused bun, topped with wild rocket, creamy mayo, spicy sriracha and deep fried crispy tofu. Which is, without a doubt, the best burger/sandwich we've ever eaten. For something sweet, we decided to try one of the doughnuts we've heard so much about. We picked the chocolate stuffed option topped with crushed cookies, strawberries and charred marshmallows.
After satisfying our hunger, we headed straight to our dealer. Our body butter dealer, that is. We always have at least five jars of cream, body butter, mousse, lotion, oil - anything that will leave our skin velvety soft and smelling more edible than granny's baking. But, we have now gone down to just the one tub of moisturizer- Vegan Healing Soap's vanilla and coffee whipped body butter. This stuff looks and smells good enough to ice a cupcake. Vegan Healing Soap also makes other scents of body butter as well shaving bars, shampoo bars, body scrub and, of course, soap. All of these are hand-made with natural ingredients. This is definitely a stall worth checking out.
We were far too full to sample all of the amazing free and delicious nibbles on offer. But, we knew we had to make room to try Laharna olives. You get olive lovers and olive haters, there is no in between. We are on the olive lover team. Laharna Farm Products also offers chilli, lemon and rosemary infused olives. Other olives worth tasting are the smoked olives, olive pesto, olive chutney and the olive biltong. Yes, olive biltong! If you're not a big fan, the chilli salsa, chilli sauce, sundried tomatoes and smoked salt are certainly worth blowing your budget.
One of the main reasons for visiting this market is to get our 'biltong' fix. This market often has two of the most popular vegan biltong brands ready and waiting - Oh Poppy Seed and Herbi Vohr. Herbi Vohr has become widely available in recent months with many large retailers stocking them. Oh Poppy Seed, on the other hand, is more exclusive, especially for those of us who are not inclined to do online shopping. This biltong tastes almost exactly the same as real meaty biltong as it is flavoured with vegan Worcestershire sauce and liquid smoke. We were excited to discover that the noisy plastic containing the biltong, is 100% recyclable and R1.00 of every bag of biltong bought goes to Asher's Farm Sanctuary.
If you're in the market for something colourful to brighten up that black wardrobe, Original Hippies will make your tie dye dreams come true. These hippies will tie dye ANYTHING. Their stall has some of the most vibrant shirts, pants, skirts, dresses, hoodies and even socks imaginable. This is the ultimate clothing stall to add some beaming colour to your life in the coming winter months.
This market also boasts the favourite alternative dairy brand among many vegans - Irene's Gourmet. This one is always mentioned when new vegans say "I miss cheese". Their Melt Me Cheeze, mozzarella, cream cheese, coconut yogurt and butter has made being and staying vegan a delicious possibility for many. In fact, many vegans won't even attempt to try another dairy alternative once they have had Irene's.
The Vegan Hippie Connection Market are animal lovers. As such, they often have stalls for animal charity organisations, giving them the chance to inform the public about what they do and to collect some much-needed donations. Pigs and Paws has come up with the ultimate way to get people interested - by bringing Stoffels to the market. Stoffels is the most adorable, black, little pig. This little guy was showered with a chorus of "aaawws" when he was trying to snort up some ice cubes to cool down and when he offered a little kiss to a visiting pooch.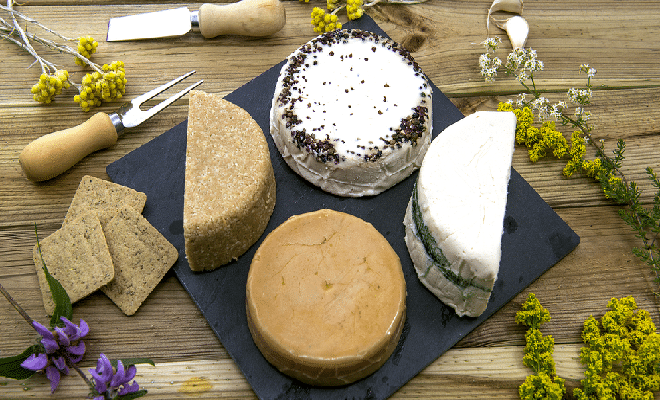 These are just a few of the fantastic stalls available at this unique market. To find out when a market is being held and what stalls will be there, check out their Facebook page.