2022 Freedom Day Events
Although we are still within the midst of a pandemic, there are still a handful of events taking place throughout the city this Freedom Day. Even though there isn't much, you can still celebrate, commemorate and enjoy this day doing other things (which we have listed below if you're not keen on leaving the house).
Freedom Family FunDay
Date: Wednesday, 27 April 2022 from 10:00 – 16:00
Spend Freedom Day with your family, out in the countryside for the Freedom Family FunDay at Glenburn Lodge & Spa in Muldersdrift. Enjoy the fresh country air on their River Park waterfront, where you can look forward to a picnic-style lunch, some great live music as well as kiddies entertainment to keep them busy all day long. Tickets cost R190 per adult; R95 per child aged between 6 – 12 years; R50 per child aged between 3 – 5 years; and free entry for kids under 3. Also, as a treat, there will be FREE popcorm or cotton candy for the kids and a sherry for the grownups. To book your spots, be sure to email [email protected].
Freedom Day Fiesta at Chicago's Piano Bar
Date: Tuesday, 26 April 2022 from 19:00
Kick off the Freedom Day celebrations at Chicago's Piano Bar in Randpark Ridge. They will be hosting a Freedom Day fiesta that's sure to get you into a great mood. They most certainly know how to celebrate a public holiday – with a crazy cheap drink special! Enjoy 2 x double gin/vodka and mix for only R60. And there will also be plenty of entertainment to keep the party going, including beer pong (starts at 19:00 sharp), live bands, awesome tunes spun from the DJ and more. DJ Vern D will be upstairs spinning funky house and DJ Steve Strange will be playing the golden oldies. No guests under the age pf 18 will be allowed.
Freedom Day Berry Picking at Field Berry Farm
Date: Wednesday, 27 April 2022 from 09:00 – 15:00
We know a relaxing away to celebrate Freedom Day! Why not head out to Walkerville and visit the Field Berry Farm and have bucket loads of fun... literally! Here, you'll be able to pick your own berries from their fields (berry picking session is ending soon), enjoy delicious food that sure to delight the taste buds and listen to some great tunes! Entrance fee is R35 per child and R45 per adult, you pay for the berries you pick from their fields – R130 per kilogram of picked berries. There will be a variety of food stalls offering tasty food and refreshments, and for your live entertainment, Bono & OhTeeh will be performing between 11:00 – 14:00.
Freedom Day Market at Busstop7 Open Air Market
Date: Wednesday, 27 April 2022 from 09:00 – 15:00
If you're in Pretoria on Freedom Day, why not pop into the Busstop7 Open Air Freedom Day Market? Spend the day enjoying the Pretoria autumn sunshine, taking in some fresh air, talking a leisurely stroll through the market and shopping a wide variety of delicious foods, refreshing drinks, fashion, jewellery, art and interesting crafts. This is a lovely spot if you're looking to treat the family to some fun under the sun.
Asher's Freedom Day Market
Date: Wednesday, 27 April 2022 from 09:00 – 15:00
Come rain or shine, join Asher's Farm Sanctuary for their first ever Freedom Day Market! Based in Boschkop in Pretoria East, Asher's Farm Sanctuary will be offering families a day full of a great selection of food stalls; plenty of artisan goodies; fun exploring the rest of the farm; as well as activities for the kids! Tickets cost R25 per person and are sold at the door. Also, your entry ticket automatically places you into their exciting raffle. The winner will be announced on the day. Please note that mask wearing is compulsory and all COVID protocols are in place.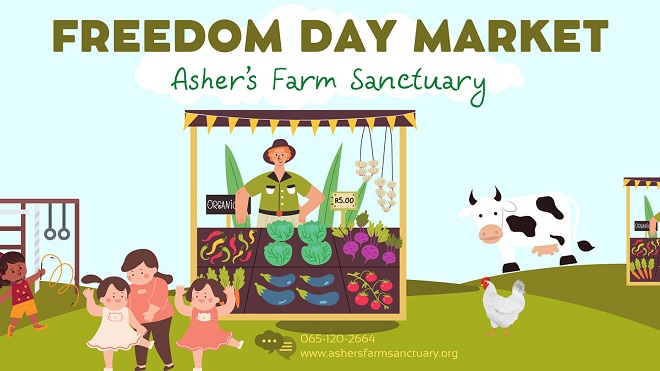 Kamers Makers Pretoria
Date: Wednesday, 27 April to Monday, 02 May 2022.
Since it's Pay Day week, why not enjoy a little bit of shopping at Kamers Makers Pretoria at Menlyn Maine Central Square, as of Freedom Day! This favourite 'up'-market is back with a bang, giving shoppers and visitors to enjoy and browse their way through over 170 of the country's finest artisan makers, selling everything from fashion to footwear, skincare to ceramics, jewellery, decor, homewares and much more. At Kamers, you'll most certainly find the coolest stuff you've NEVER seen! Click here to get your tickets now.
Go Out & Explore
Take me to Soweto! You have to head to this symbol of the nation one of these good days people, especially on this special day. It is regarded as one of the most famous urban areas in Joburg and it holds a ton of our history. So, we suggest you grab the family and friends, and head to the most visited street in this urban area. We think you'll love it.
Click here to explore Soweto.
Constitution Hill
The remnants of an old fort and holding cells for political prisoners has been turned into the domain of South Africa's Constitutional Court and proclaimed a national heritage site. Constitution Hill is in Braamfontein, just up the road from the train station, and deserves your attention. And you know what's even more exciting on this day?
Click here for more information.
Freedom Park
Though it's not in Johannesburg, it still deserves our attention – besides, Pretoria is pretty much Joburg's little brother anyway. Freedom Park celebrates South Africa's heritage as a centre of knowledge aimed at deepening the understanding of the nation. It strives to accommodate all of the country's experiences and symbols to tell one coherent story.
Click here for more information.
Staying In
Movie Marathon
Hollywood is in love with our stories of trials, tribulation and success. And why shouldn't they be? We've got a very rich history. Why not rent Invictus, Mandela: a Long Walk to Freedom and Cry Freedom and have yourself a little movie marathon. Don't forget the popcorn! We'll take extra butter, please.
Braai
If there is one thing which unites us more than when the Springboks win a match, it's the fact that we love our braais and make a big deal out of them. So, in spirit of Freedom Day, why not invite your buddies over and celebrate the day which shaped our nation?
Books to Read
Why not skip the movie marathon and grab one of these books for your reading pleasure: Steve Biko's I Write What I Like, Breyten Breytenbach's The Confessions of an Albino Terrorist or Nelson Mandela's Long Walk to Freedom. It's a good excuse to curl up in bed as the April weather takes a turn.