About GI Jane
GI Jane was started in 2018 by Candice De Mendonca, who has been a Personal Trainer for over eight years and qualified as a Sports Nutritionist in 2017. She has teamed up with the Executive Chef from EH Catering, Komnia Minkova, and now own GI Jane together. They can prepare up to 1 000 meals a day if not more! They have been working closely with clients with their fitness as well as healthy eating, in order to receive the best results for each individual's specific goals and dietary needs.
Candice has realised over time that people are either too busy to prepare healthy meals or are not sure how to start introducing healthy foods into their households, which is why GI Jane Guilt Free Foods is the perfect solution. While larger catering companies offering healthy meals delivered to your door, they don't take into consideration that everyone is different when it comes to their nutritional needs. GI Jane recognises the need for customised meal prep according to her clients' weight, body measurements, health matters and personal goals.
You are not only getting healthy and nutritious meals, but you are also getting a lifestyle coach and programme that will be updated as your personal health needs change over time. This is the perfect meal solution for those who face diabetes, high blood pressure, cholesterol issues and other health matters that require effective nutritional meal plans for a healthier lifestyle.
Product & Service Offerings
To ensure that all of your nutritional and health needs are taken care of, GI Jane's product and service offerings includes:
Healthy Custom Meal Plans
Food Choice Guidance
Online Scrumptious Nutritious Meals
Delivery of weekly meals every Monday and Wednesday.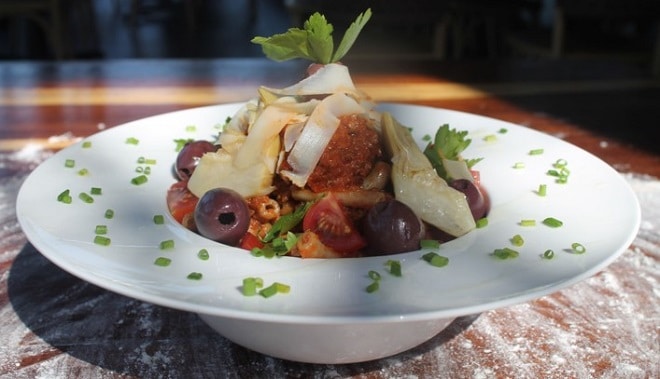 GI Jane's Exclusive Menus
There's a wide selection of delicious meals for you to choose from and enjoy from GI Jane Guilt Free Food. They have three menu options for you to choose from:
A few dishes we absolute love include the Ostrich Carpaccio Salad complete with pomegranate seeds, black and white sesame seeds, and an olive oil lemon zest dressing; the winter warmer Chicken Noodle Soup; the Scottish Seared Salmon served with grilled asparagus, roasted pepper and whole-wheat cous cous; and for dessert, the Protein Waffles and ice cream topped with berries and their secret sugar-free blueberry sauce.
For the full menu, click here. 
You can also add option nutritional benefits or alternatives to your order. Add collagen power to any dessert for an additional R15. Vegetarian and gluten-free options are also available at an additional cost of R20 per meal. And if you're looking to add a little more spice or flavour to your meals, chili and lemon zest infusions are optional.
Ready To Order?
Taken a look at their menus and have decided on what you'd like to order? Alll you have to do is either call 011 781 5455 or WhatsApp 082 887 6895 to place you order. You can also email order to [email protected].
You can also visit their website at www.mryum.com/gijane and place your order there.
As for payment options, speed points are available, as well as EFT or cash for self collection or delivery. Tips are welcome.
You can either dine in at their venue on Bram Fischer Drive, Randburg; order for delivery; or order and collect it from their venue.
They offer delivery to the following postcodes: 2194, 2195, 2160, 2092, 2109, 2193, 2198, 1709, 1715, 2191, 2014, 2021, 2031, 2052, 2128, 2196, 2192.
For More Information
For more information about GI Jane Guilt Free Food and their delicious meals, visit www.mryum.com/gijane.
You can also contact GI Jane by calling 011 781 5455 or on WhatsApp at 082 887 6895. Or send them an email at [email protected] or [email protected].
Don't forget to follow GI Jane Guilt Free Food on Facebook and Instagram.