About Vivari Hotel & Spa
The opening of Vivari Hotel & Spa close to Featherbrook Estate not only sees the launch of an exciting new city escape, but is a game changer in South African medical tourism too: it is home to Vivari Aesthetics, the first of its kind hotel with a plastic surgery hospital on site.
Wellness & Health
With a keen focus on an integrated approach to complete wellness, the property is also home to expert practitioner Dr Anushka Reddy's Medi-Sculpt clinic, as well as the Vivari Spa with its health food studio, gym, yoga offering, pool and jacuzzi.
The Location
Rooted in Sanskrit mythology and set in lush gardens along the winding Crocodile River, a feeling of holistic upliftment can be felt throughout the premises. Enormous pecan trees, manicured lawns, water features and resident owls give the feeling of the countryside, and instills a sense of peace and wellness, while the stone paths invite guests to explore.
On-Site Restaurants
The restaurants are designed to make the most of being in nature, with the daytime Pècan Pool Bar offering fresh salads, wholesome sandwiches and hand-stretched pizzas poolside, to the more formal Brambles restaurant where guests can enjoy crafted cuisine at the glass-fronted restaurant. The 'farm-to-table' ethos means that each dish features ethically sourced produce, from grass-fed beef to sustainably farmed seafood and fresh vegetables. Water is bottled from the spring on-site and, recognising the traditional healing properties of tea, the loose leaf tea bar allows guests to enjoy their own hand-created blends.
The Hotel
The 48-rooms – comprising of 28 Superior Rooms, 19 Luxury Rooms, the Pearl Suite and the Crown Presidential Suite – are decorated to soothe the senses, with soft lighting, tactile textiles, marble and wood finishes and artistic stucco walls. Eight of the rooms are in the Vivari Aesthetic block, allowing patients to be discreetly transferred to their rooms for rest and recuperation.
Conferencing Facilities
Located only 23km from Lanseria International Airport, Vivari Hotel & Spa is the ideal destination for business and conferencing guests, too. The boardroom has capacity for 12 executives; the outside team building Madala Boma hosts 20 and the Pool Boma 16; and the conference venues, Luna and Reverie, accommodates 150 and 200 pax cinema-style, respectively. It's also the place for dreamy weddings with space for up to 200 guests at the glass-encased Jala Pavillion, set within a beautiful garden glade. Full bridal preparation from skilled wedding co-ordination to hair and beauty services are available on-site.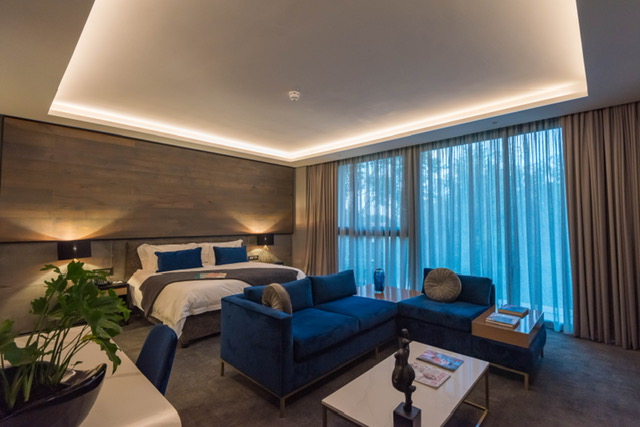 Nearby Attractions
Nearby attractions include the Cradle of Humankind, Sterkfontein Caves, Lesedi Cultural Village, the Rhino and Lion Nature Reserve, Wonder Caves, Krugersdorp Nature Reserve and the Walter Sisulu Botanical Gardens.
For More Information
For more information about Vivari Hotel & Spa, visit their website at www.vivarihotel.co.za.
You can also contact them on 010 594 4100 and [email protected]co.za.
Don't forget to follow Vivari Hotel & Spa on their social media platforms – Facebook and Instagram – to keep up to date with their latest offers, events, specials and more.