Outdoor Dining
Splurge
There is no reason you and your loved one can't dine underneath the stars this Valentine's Day. Luckily, Joburg offers a great variety of restaurants with outdoor dining options. Treat your one and only to an intimate meal, surrounded by the cool evening breeze and all the romance of a moonlit dinner. Our top pick for this Valentine's Day is KCC La Vie en Rose's annual Valentine's Dinner on the patio. Overlooking the sprawling Killarney Country Club's manicured lawns and golf course, this restaurant boasts a dreamy deck adorned in pretty fairy lights. Come and enjoy a three-course meal and a bottle of wine in Joburg's most romantic garden setting. Comedian, Harry Sideropoulos will also take to stage to keep you entertained throughout the night. What more could you need to make this Valentine's Day absolutely perfect?
How about a candlelight dinner in the bush at the Lion & Safari Park? On Valentine's Day, this family-favourite reserve on the border between Gauteng and the North West province is offering a truly unique experience for two along the banks of the Crocodile River. Enjoy a couple of drinks around a roaring bonfire before heading off on a guided nighttime safari drive. It's a definite must for wildlife enthusiasts!
Save
Are you more of a DIY romantic? Prepare a delightful outdoor picnic for you and your sweetheart. Picture a spread of sweet eats, a comfy blanket and pillow set up and champagne on ice. It's the ideal scenario to get you in that loving mood. Need a little help organising this picturesque scene? Contact Dial-A-Picnic for assistance in making your Valentine's Day as special as it can be.
Alternatively, you can surprise bae by taking them to one of these Valentine's Day picnics happening around the city. From outdoor movies to jazz and blues in the park, Joburg sure knows how to make Valentine's Day a super sweet affair for all.
A Getaway For Two
Splurge 
Sometimes all you need is a little time away for the two of you. Grab the opportunity for a mini getaway this Valentine's weekend and go on a 'glamped up' camping adventure. Offering you all the luxuries you would usually find at a hotel, these glamping spots are ideal for those of you who aren't quite used to braving the outdoors. However, that doesn't mean that you can't light a bonfire and toast marshmallows while whispering sweet nothings to each other.
Looking to go on a full-blown road trip with your Valentine? Why not head out to the jewel of the Eastern Free State? Clarens is a delightfully quaint town, perfect for two lovebirds on a mission to ramp up the romance. Take a hot air balloon ride at dawn or go on a horseback riding adventure. Clarens also offers wine and art lovers a plethora of fun activities to help rekindle the spark between you and your beau.
Save
We get it, not everyone has the time or budget to take a three-day vacation. Thankfully, you can take a day trip to any one of Joburg's lush nature reserves, for a short, quality Valentine's Day outdoor adventure. Many of these reserves are free to enter or charge a nominal entrance fee, so you can spend your hard-earned savings on buying your pumpkin pie the very best gift or trinket.
Similarly, for the more experienced outdoor men and women (with little pocket change to spare) there are a number of camping sites in and around Johannesburg. Get out your camping gear, put on those wellingtons and prepare to spend the Valentine's weekend snuggled up in your tent.
Adrenaline Junkies
Splurge
There is no such thing as a cookie-cutter relationship, so why should we all strive to have the same Valentine's Day experiences? Make the day a thing of your own, customised to what you and your partner like to do together. For all the adrenaline junkies out there, we say ditch the suit and tie and let your hair down at Joburg's most invigorating theme park - Gold Reef City! This Valentine's Day, the City of Gold invites you to get your heart racing on their new roller coaster, the Thrill Rider. This offers you the perfect opportunity to grab your crush's hands and hold them tight as you fly through the air, twisting and turning at every angle.
If that doesn't get you excited, check out our list of Johannesburg's best water parks. Take advantage of these last days of summer and go for a splash about in the pool or for a slippery slide down a winding water pipe. Not only does this activity give you the chance to impress your significant other with your swimsuit body, but it's a fun way to have a few good laughs with them, without the awkward table silence of a Valentine's Day dinner date.
Save
You don't have to face death-defying circumstances to enjoy an outdoorsy date. For a milder, but still enthralling adventure, take your partner on a free hike along one of the city's best trails. Much like a relationship, hiking with your soulmate can prove to be a challenge. Give them a helping hand when they need it and you'll be sure to reach the summit in no time. Once you hit the peak, take a moment to appreciate your surrounds and perhaps tell your Valentine why they mean so much to you. (Gents, while you're at it, read our article on the guy's guide to choosing an engagement ring. A secluded hilltop is a choice spot to pop the question, just saying.)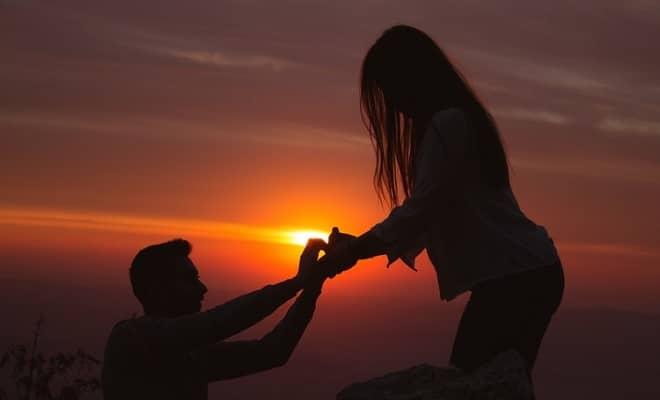 So, there you have it! All the most inventive Valentine's Day outdoor adventures to add to your romantic bucket list. Remember the sun block and have a great time with your companions on 14 February.