The East Rand Traders Square has been around since... well, no one really knows. But it feels like it has always been around. The Square has been a Boksburg staple for about as long as most of us can remember. As children, we would visit this place with parents and grandparents. Now, we go with friends. It hasn't changed much in the last 20 years. The shops may have changed, people have come and gone, but the vibe is still the same. And that's what makes us keep coming back for more. They have a variety of shops selling everything from children toys to books. Here's what to expect.
Gift Ware
Many of their shops focus on African hand-made wares like wooden carvings of the Big Five and vibrant beaded jewellery. There is also a range of wire and beaded animals and some of the shop owners will even custom make your very own trinket. Other gift ware includes painted and drawn canvases, African curios and a wide variety of various art and crafts. And for the perfect gift, stop by any one of the music or book stores, that offer all genres at low prices.
Home Ware
Aside from the Oriental Plaza, this is one of the best places to stock up on curtains, blankets, bedding, pots and pans, silverware and cutlery, kitchen gadgets and so much more. We love their range of colourful kitchen knife sets, complete with matching chopping boards, oven mitts and dish clothes. You can also find items needed to fill your pantry such as fresh fruit and vegetables, an array of spices and all your favourite sauces.
Fashion
There is a wide array of clothing shops that offer everything from colourful dresses and smart jackets to specialty shoes and socks. The apparel here is available is most sizes. But the reason most people flock here is for the shoes. They have a huge variety of sandals, boots, slippers, heels and sneakers. In particular, they have many Vans Old Skool style sneakers for the skater boy and punk rocker. Metal heads and music lovers can also head on over to one of the many t-shirt shops and get some band shirts, caps and even shorts.
Entertainment
What attracts most people to the East Rand Traders Square is the weekend entertainment. They have a big entertainment square in the middle of the market. Here, you can sit outside in the sun while enjoying some of South Africa's biggest Afrikaans artists. This area is also equipped to handle children. There is a play area with a massive jungle gym, within eye view of parents. So your children can play safely while you enjoy the show.
Food
The entertainment area is surrounded by food shops. They have pizza, curry, burgers, chips, samoosas, ice cream and doughnuts. We recommend getting a potato twister at Chip 'n Dip, sprinkled in your flavour of choice. This is a twirl of potato on a stick, like a huge deep fried chip. The edges are then dipped in seasoning, creating the perfect crunchy and salty bite. For dessert, stop by at one of the two mini doughnut shops. Here, you'll get a few crispy morsels of dough, fried to perfection and drizzled with your choice of caramel, milk or white chocolate (or all three).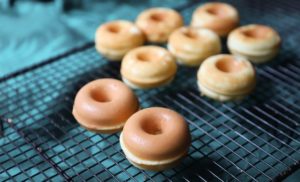 The East Rand Traders Square is closed on Mondays (unless the Monday falls on a Public Holiday), but open from 09:00 - 17:00 on Tuesdays to Sundays and on Public Holidays.
Entry is free on weekdays, but costs R5 on Saturdays and Sundays, when they have musical performances and entertainment.
There's ample parking parking which is free of charge.
Contact details: 011 823 2618 | 4 Frank Road, Bardene, Boksburg | [email protected] | www.eastrandtraderssquare.co.za | Facebook