All children love to draw. It is part of how we explore the world around us and make sense of who we are. Most of us lose that drive to create as we get older. Get back in touch with your inner artist by joining a class at The Creatory in Randburg. This modern art studio and paint store has everything you could possibly need to let your inner artist fly. They specialise in an array of creative classes, including watercolour painting, pottery, and creative pen illustration. You can join one of their existing classes or book yourself a private paint party. The Creatory also offers take home paint kits so you can practice your craft from home. Let's tale a closer look at what they have on offer over the coming month to help you find the perfect class or workshop:
Holiday Fun
Keeping the kids entertained over the school holidays is a tough challenge. Bring them to The Creatory for a mini paint session. They'll be painting a funky jellyfish design in mesmerizing watercolours. This workshop is open to kiddies aged six and up, as well as adults. No experience is required and you will be supplied with professional watercolour paints, watercolour paper and paintbrushes. Tea, coffee and juice will also be on offer to keep you refreshed. The workshop costs R325 per person, but considering all that's included in the package, we think it's a steal. Book yourself and the little ones a spot now.
Date: Friday, 8 July 2022 at 10:00.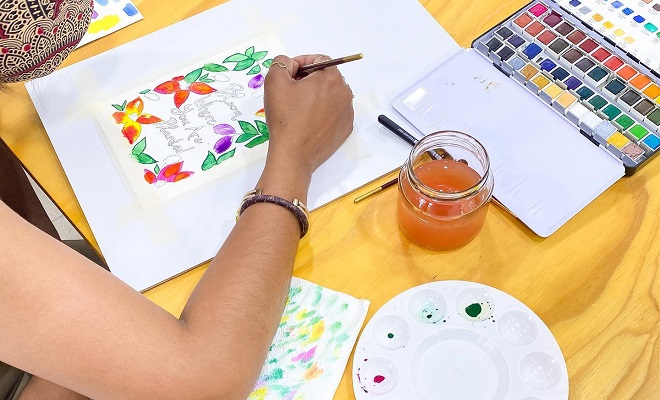 Arty Mornings
The Creatory will sweep you off your feet and transport you straight to the idyllic Grecian isles this July. Join them for an arty morning filled with step-by-step painting fun, light brunch snacks, and tea or coffee refreshments. You will be painting a pre-designed Grecian villa in flowing watercolours. No prior painting experience is required to participate and children over the age of eight are welcome to tag along with their parents for a fun family outing. You will be supplied with all the necessary art materials as well. Bookings are essential to secure a spot in the workshop, so be sure to get your tickets as soon as possible.
Date: Saturday, 9 July 2022 at 11:00.
Paint Parties
If you've always wanted to learn how to manipulate acrylic paints, this is the workshop for you. The Creatory's paint masters will guide you through a detailed acrylic paint session while you tuck into a slice of delicious cake. You will be painting the cutest buzzing bee in vibrant shades of yellow and gold. All art supplies will be provided to you by The Creatory, including your own A3 canvas and frame to display your creative work for all the world to see. This workshop is open to children over the age of eight and adults. Book your seat as soon as possible to avoid missing out on the fun!
Date: Sunday, 10 July 2022 at 13:00.
For More Information
Visit their website for more information or to purchase tickets to a painting class or workshop. You can also follow The Creatory on Facebook to stay up to date with their latest events.
Details: Greenroots, 1159 John Vorster Road, Glen Dayson A.H. Randburg | (Tel) +27 82 305 5724 | Email: [email protected]