What's New And Exciting!
The reasoning behind the collaboration is multi-fold. Diesel has consistently looked to moto-racing for inspiration over the years, going as far back as the 1980's when the company would sponsor competitive events. Fast forward a few decades, and Diesel has continued to be fuelled by moto-races, involving everything from partnerships like the ones with the legendary Italian motorcycle manufacturer Ducati, to aesthetic design details into multiple collections (even as recently as their current season, Spring/Summer 2019). Adrenaline, instinct, grit and bravery - all involved in the sport, and all power Diesel's ethos. This is why the company has been galvanised by moto-racing over for decades.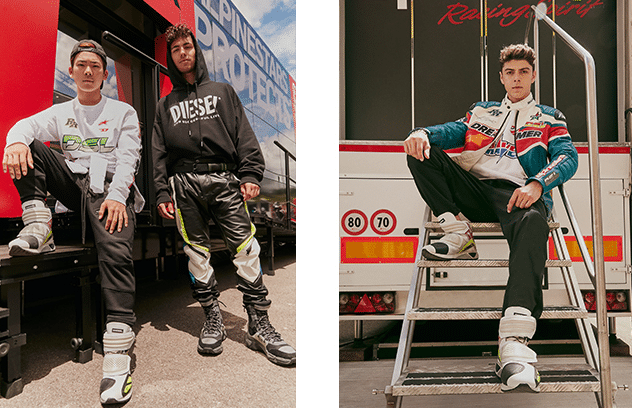 What You Can Expect From This Collection
By linking up with an established and highly regarded Italian company like Alpinestars, the leader in motosport protection and design, Diesel injects an enhancement in both craft and creativity for this season, paying homage to the roots of both companies and while also boosting uniqueness and variety for customers.
The capsule features, men's leather jackets inspired by the archives of both brands, which feature motocycle details and leather patched that recall sponsorship logos (these are all rendered, however, with Diesel iconography). Additionally, to complete the capsule, sweaters, t-shirts, and a cap will further capture the snarl and the vibe of the motocyle racing world.
The goal is to celebrate and spotlight DIESEL and Alpinestars' commitment to the discipline—and a shared passion for bold, high-octane competition. The collection is now available locally at select DIESEL stores and on diesel.co.za.