Hand-Crafted Goodness
Cut & Craft Artisan Bistro - the name says it all. This quaint eatery sits near the top end of Kensington's famous Queen Street. Lined with restaurants, coffee shops and antiquaries, this street is a must-visit. But, for the time being, we will accept that you start out by exploring Cut & Craft's delectable menu.
Cut & Craft believe in the slow and steady cooking methodology. This isn't a fast food takeout joint - all of their menu items are home-crafted from rustic recipes handed down over generations. Try Ouma's Apple Pie if you don't believe us. Also part of their foodie philosophy is to grow all of their own herbs. They have even started growing greens on a vertical hydroponic garden wall!
The decor here is just as quirky as the menu. Steampunk themed with a super laid back atmosphere is what you will find inside. A wonderful blend of dark oaks, steel and bronze give this place its character. However, the restaurant is not strictly reserved for those who carry timepieces or wear monocle goggles. All are welcome! Bring your buddies along on a Sunday afternoon for live music, craft beer and great food on their outdoor patio.
All-day Brekkie
If there is one thing we know Joburg foodies love, it's an all day breakfast. Cut & Craft offer just that - from artisan breads which are baked fresh daily in the wood-fired oven, to Banting frittatas and breakfast buns, there is something for every hungry tummy. Early birds can get their hands on freshly baked bread, made using only the best stone mill flour, by 10am each morning. Be the first to grab a loaf, whilst sipping on a cup of their Terbodore 100% premium Arabica.
If you are more of a sweet tooth, try out Cut & Craft's Belgian Waffles. Light, crispy and hot - just the way they should be. You can choose from a classic version or add your own toppings from the menu. Tip the sweet scale by washing it down with a Freakshake - a smooth, all ice cream milkshake topped with an assortment of goodies like candyfloss, fresh berries and cream.
https://www.instagram.com/p/BeHn3AkBFSe/?utm_source=ig_web_copy_link
Crafters Comfort Food
Breakfast feasts not your thing? Not to worry. Cut & Craft are just as good at lunch and dinner-time delights. We recommend the Nasty Nachos - crunchy tortilla chips smothered in cheese, salsa and your choice of chicken or beef. Or, sample their legendary Prawn Curry. With just the right amount of spice, this hotpot makes the perfect Sunday night meal.
Meat lovers, listen up. Cut & Craft are experts in good old fashioned burgers, ribs and steaks. Their 200g pure beef burger patties are tender, juicy and wholesome. But if that wasn't enough to tempt your taste buds, their AAA grade 28-day mature rump steak surely will. You can have yours plain, basted in Cafe Craft Butter with 13 spices or pepper crusted for no extra charge. Drooling yet?
Last, but certainly not least on the Cut & Craft menu is their pizza. Made from fine Italian flour, their bases are crispy and light. Customise your pizza pie with one, two or as many different toppings from their never-ending list. Indulge in South Africa's best hand-selected wines while you are at it, or in the extensive range of single malt whiskeys and handcrafted gins at their SpeakEasy bar.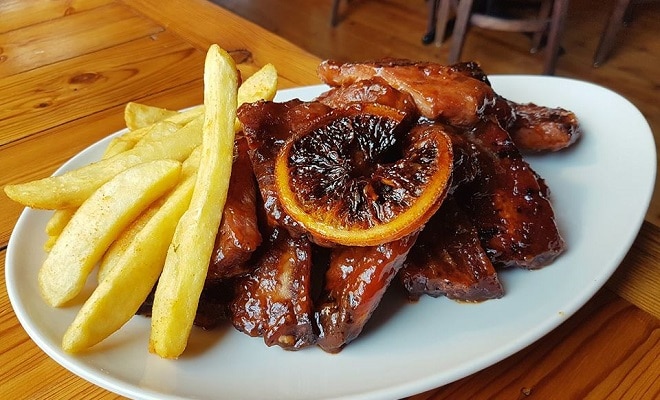 We'll see you there!
For more information
Visit their website for more information, or follow their social media pages:
Facebook - facebook.com/cutcraftbistro
Instagram - instagram.com/cutcraftbistro
Contact them on 011 615 0230 or via email at [email protected].
Details: 159 Queen Street, South Kensington, Johannesburg.