The Craigellachie Standard
The Craigellachie distillery sits firm in the heart of Speyside, in the middle of Scotch territory. Speyside whiskies are known to be fruity and floral. Craigellachie defies this with its rich and robust character, thus giving the brand its reputation for being the 'Bad Boy of Speyside'. 
The brand was founded by whisky icons, Peter Mackie and Alexander Edward in 1891. Mackie and Edward stubbornly stuck to tradition, making the hallmark of their distillery the use of old-fashioned worm tubs to cool its spirit and its own oil-fired malt. Despite being called "old-fashioned", this method bestows extra flavour, creating a muscular character to rival whiskies of far greater age. 
Today, the Craigellachie core portfolio comprises two single malts, the 13 Year Old and the 17 Year Old. However, the brand has recently announced a new expression, challenging even the most seasoned palates. The Craigellachie 51, which began its life in 1962, has stood waiting for five decades to finally make its world debut.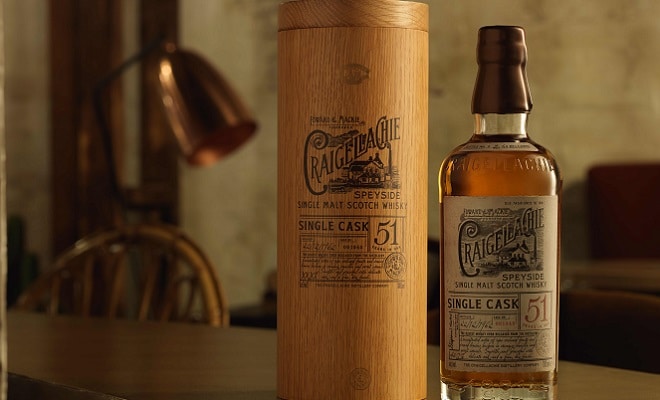 Craigellachie 51
Since November 2018, the Craigellachie 51 expression has traveled the world, introducing itself to Londoners, New Yorkers and Sydney locals. Now, this bold whisky is making its way to South African shores! As there are only 51 bottles of this expression, we can count ourselves incredibly lucky to be gifted with this expression, which hearkens back to a bygone era of whisky distilling.
Unlike many other aged whiskies of this stature, Craigellachie 51 isn't bottled in a fancy crystal decanter. Nor does it carry an exorbitant price tag, allowing for only a select few to enjoy its flavour. This unique whisky has been resting in oak casks for 51 years already, and it deserves to be enjoyed right away rather than sit on a shelf collecting dust. 
That's why local whisky connoisseurs should prepare themselves for a tasting experience unlike any other. This November, Craigellachie will be hosting a pop-up bar at the Whisky Brother Bar in Morningside. Over two nights, guests will be welcomed to the aptly named Bar 51. Come and sample Craigellachie's 13 and 17 year old expressions, which will soon become available on shelves. You can also be some of the first to taste the Craigellachie 51, which is described by Malt Master Stephanie Macleod as having a "distinct umami, muscular note that Craigellachie is known for." 
Describing the unique taste of the Craigellachie 51, Macleod added, "51 years of oak and spirit in perfect balance and harmony has created a whisky exquisite in its purity and rarity. Concentrated notes of ripe orchard fruits and waxed lemons beckon in creamy vanilla and sweet cereals. Smooth and graceful with delicate oak and a fine, dry finish."
Bar 51
Reservations for the Bar 51 event went live as of Thursday, 10 October 2019. However, entries only close at midnight on Sunday, 10  November 2019, so you have ample time to secure your seat. You could also stand the chance to win a set of 96 pairs of free* tickets. For a chance to taste and savour the uniquely special Craigellachie 51, visit this website.
In homage to the dynamic whisky duo that founded the brand and distillery in 1891, and to bring to life the tasting notes of Craigellachie 13, the brand has challenged two popular and skillful local mixologists to curate a bespoke cocktail for Bar 51. Sabrina Traubner from the Cape Town bartender scene and Devin Cross representing the Joburg crowd, have curated two signature cocktails that will be enjoyed by all guests at Bar 51. 
Traubner's aperitif cocktail is called 'The Mackie' and features Craigellachie 13 alongside refreshing citrus hints, complemented by toasted coriander seed bitters and tennis biscuit syrup. Cross' 'The Edward' is a dynamic cocktail. Celebrating the combination of Craigellachie 13 with salted caramel and apple in a mouthwatering highball.
When Is It?
The Bar 51 event will take place on Wednesday, 20 November 2019 and Thursday, 21 November 2019.
Where Is It?
Whisky Brother Bar, Moringside Shopping Centre, Rivonia Rd, Morningside, Sandton, Johannesburg.
For more information
Whisky lovers can start looking out for Craigellachie whisky in stores soon. Selling for a recommended price of *R929 for Craigellachie 13 Year Old and *R2,199 for Craigellachie 17 Year Old. 
For more information, visit https://www.craigellachie.com/za/en/ or follow the brand on Instagram.