Royal Coffee Roasters
Previously named Beans About Coffee, the Royal Coffee Roasters are, well... beans about coffee. This Edenvale store offers a selection of 17 different coffee bean blends. These include popular choices like Kenya and Ethiopia as well as a few unique options such as Down Under and Indonesia. Their store stocks all of these in bean form, but will grind them for your machine of choice. Royal Coffee Roasters also offers a multitude of coffee equipment which includes plungers, Paloma Coffee makers, coffee drippers and cappuccino machines. If Edenvale is too far out the way, don't fret. Royal Coffee Roasters offers the convenience of an online store. But we suggest paying the store a visit and treating yourself to a scrumptious Mocha and a dainty coffee cake.
Contact details: Royal Coffee Roasters | 011 452 2751 | Stoneridge Centre, Greenstone Park, Edenvale, Cnr Modderfontein and Hereford Rd | [email protected] | https://www.royalcoffee.co.za/
Father Coffee
Based in Rosebank and Braamfontein, Father Coffee is the home of good coffee for Joburg residents. This coffee shop roasts their own coffee beans at their shop. They sell these special blends in bean form or in ready made coffee by the cup. They have 16 coffee bean options, from Heirloom Blend and Mokanesa Bulga to the Konga Natural and the San Martin Honey. All of these beans comes with a handy information guide detailing the producer, region, variety, process, altitude, flavours and brew. But if that is too much reading for you, just have a quick chat with the baristas. These coffee sommeliers will be able to recommend beans to suit your palate, based on the flavour nuances you'd prefer and how milky you like your coffee.
Contact details: 082 513 4258 | Braamfontein - Shop 2, 73 Juta Street, Braamfontein | Rosebank - Shop G13, The Zone, 177 Oxford Rd, Rosebank | [email protected] | http://www.fathercoffee.co.za
Bean There
Bean There is Joburg's first supplier of Fair Trade coffee. This means that the producers of this coffee get a fair price for their product, that will go towards the development of their countries. Bean There's coffee beans are from various African countries such as Ethiopia, DR Congo, Burundi, Rwanda, Kenya and Tanzania. These beans are all roasted in small batches, ensuring optimal flavours and roasts. But what's the point of high quality coffee if you can't make it? This is why Bean There also supplies the best in accessories, automated espresso machines, manual espresso machines, filter equipment, grinders and brewing equipment.
Contact details: 087 310 3100 | Milpark - 44 Stanley Avenue, Milpark | Braamfontein - 111 Smit Street, Cnr. Eendracht Street, Braamfontein | [email protected] | https://beanthere.co.za
The Tea And Coffee Emporium
The Tea And Coffee Emporium, based in Bedford Centre, is a coffee lover's haven. Not only do they offer a fine selection of coffee beans and equipment, they also offer gadgets, accessories and syrups. Their coffee selection includes instant, beans and capsules from brands such as Illy, 7th Psychopath, Fantini and Kimbo. They offer a gorgeous range of coffee pots, machines, expresses, filters, frothers and even a barista tool kit. This is definitely the place to check out if you're an aspiring barista, a coffee addict or are looking for the ultimate gift to spoil the coffee lover in your life (or even yourself).
Contact details: The Tea And Coffee Emporium | 011 615 7147 | Bedford Centre, Cnr Smith & Bradford Roads, Bedford Gardens, Bedfordview | [email protected] | https://www.coffeeandtea.co.za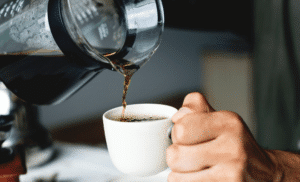 Peacock Coffee and Tea Traders
Although based in Cape Town, this establishment also has a store right here in Joburg, at Rosebank Mall. Their offerings include certified organic coffee, certified rain forest coffee, coffee blends, coffee capsules, espresso, flavoured coffee, origin coffee and gourmet estate coffee. As great as the coffee is, it's the accessories that wow us. With items like cup warmers, cappuccino stencils, coffee thermometers, siphons, butane micro burners, tampers, cleaning kits, coasters and coffee pots, all your coffee needs will be sorted. And those who don't want to schlep all the way to Rosebank can simply purchase all these products online.
Contact details: Peacock Coffee and Tea Traders | 011 880 6514 | Rosebank Mall, 50 Bath Avenue, Rosebank | [email protected] | https://www.peacockteaandcoffee.co.za
Coffee Unplugged
This Sandton store offers the best in coffee machines available in South Africa, including filter machines, espresso and cappuccino machines, traditional group machines, cold brew coffee makers, cafflano, vending machines and coffee grinders. They only sell the best machines that have earned a quality reputation, are easy to clean, have easily available spare parts and that are easy to use and maintain. All of these machines are available to rent as well as buy. And if you're unsure what machine best suits your needs, their staff are more than happy to assist. Coffee Unplugged also sells two types of coffee beans, Coffee Unplugged Roastery and Caffe Costadoro - Imported. If this wasn't enough, they also offer machine repairs, sell accessories and have an in depth blog about coffee storage, grinding processes, express and plunger coffee.
Contact details: Coffee Unplugged | 0861 263 333 | 39 Thora Crescent, Wynberg, Sandton | [email protected] | https://www.coffeeunplugged.co.za