It was at the tender age of 16 when Chef Marnus Scholly knew that he had found his calling. It was purely by chance that he picked hospitality as his sixth matric subject and two years later, he had joined The Chef School for Food and Wine in Krugersdorp where he graduated in mid-2008. His first job was at Forum Homini's, Roots Restaurant where his love for fine dining food was ignited. He went on to spend a year at Hotel Izulu before moving out of town and taking up a post at Singita, a collection of flagship, luxury bush lodges in the Kruger Park.
His time at Singita was spent working alongside some of the country's most dynamic and creative chefs. Scholly describes the food, the team spirit, the drive and the passion at Singita as electric. Despite the long hours, competitive rivalry, and the sometimes-impossible heat, Scholly says the experience was out of this world and everything you could expect of chefs giving of their best. Scholly thrived under the guidance of the Executive Chef who he says had so much passion it was contagious. Nothing would leave the kitchen if it was
not up to her standard.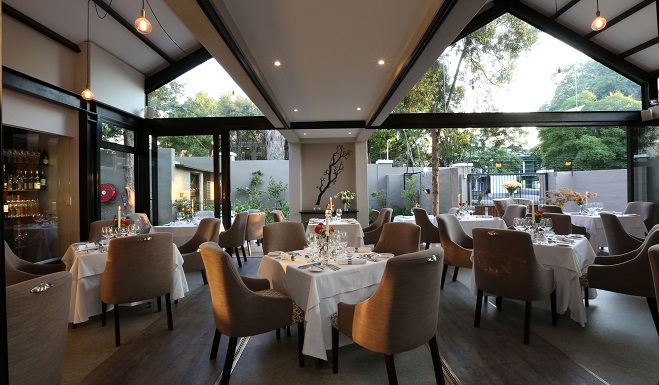 After three years at Singita, Scholly and his wife left the bush and decided to return to Johannesburg where he rejoined Forum Homini, Roots Restaurant. It was here that Scholly worked under the watchful eye of chef role model, Adriaan Maree and his whole concept of food and flavour evolved. He was amazed by the amount of flavour, detail, and precision that Maree could bring to a plate. After just four months at Roots Restaurant, Scholly was again coerced to move out of town and back to the bush with an irresistible offer to be the Head Chef of Savanna Private Game Reserve in Sabi Sands. His time spent here was invaluable and although he was the only qualified chef in the kitchen, he had two incredible sous chefs that could run the kitchen without him. It taught him a lot about what it means to be a true chef, going back to basics and being humble. In his opinion, these two cooks could stand up to many a qualified chef.
In 2016, after three years at Savanna Private Game Reserve, he was finally given the opportunity of being a Sous Chef in the City of Gold at Clico Restaurant. Scholly saw this as an excellent opportunity to propel his career. It was just 11 months later that Scholly was promoted to Head Chef of Clico Restaurant and he has loved every minute since then. Inspired by international greats like Raymond Blanc, Marco Pierre White and Michelle Roux Junior, as well as local chefs, Adriaan Maree and Bertus Basson, Scholly describes his defining skill as understanding and creating flavour. His signature dish, Braised Pork Belly with Parsnip, Mustard and Honey Puree served with a Pork and Rosemary Jus, mirrors this skill by keeping things simple but packed full of deliciousness. Scholly strives for a relaxed atmosphere in his kitchen but says it's all about balance. He tries to understand each of his chefs, where they are and how they need more guidance. His goal is to get them as excited about creating food as he is. He wants to make dishes that get better and better with time and that consistently
please his customers.
Scholly keeps his fingers on the pulse of the international food scene and will be exploring some trends on his menus in 2018 that involves fermentation and alternatives to dairy. He finds inspiration for his seasonal menus at Clico by going back to classical dishes and then reinventing them into modern works of art.
The Clico Summer Menu 2018
Dishes on the Clico summer menu include a range of starters like the chilled cucumber soup with salmon, a tender pork belly and a delicately prepared quail drizzled in a port sauce. Mains include a sweet potato cannelloni (a favourite for veggies and carnivores), Harissa beef fillet and Kabeljou amongst others. Scholly's desserts are right on trend and his lavender and blueberry dish uses strong flower herbs to bring out clever and subtle flavours. Presentation is key at Clico and Scholly uses both colour and the lack of colour to create moody, beautiful
looking food that delivers a taste sensation.
By Shawn GReyling