Hitch A More Affordable Ride From DiDi
The New Ride In Town
The latest ride-hailing app to launch in South Africa went live in Gauteng on Monday, 23 August 2021. But how does it compete with an already saturated market? Well, we can confirm that it holds its ground when going head-to-head against Uber and Bolt, that's for sure!
The question remains. Why should you use DiDi instead of the other guys? Well, DiDi offers:
Affordable fares: Let your Rand travel further with DiDi's everyday low fares and offers.
Quick and reliable: Your ride is ready in minutes. Break free from timetables and request a ride on your own watch.
Safety first: Get added peace of mind when you ride with pre-screened drivers, built-in safety features, and pay as you go with secure cashless payments.
Happy drivers: With an average industry-leading services fee, every ride taken with DiDi allows South African rideshare drivers to earn more of the fare.
There were also options to invite friends to the app, learn more about becoming a DiDi driver, or view current promotions – all in the palm of your hand, thanks to the innovative DiDi app.
Safety & Security In Mind
Let's face it we live in a beautiful city that has an ugly side to it. DiDi constantly improves its service and safety standards to ensure an enjoyable rideshare experience for both riders and drivers.
With the tap of a button, you can contact law enforcement and emergency services while your trip details and live location will be shared with your Trusted Contacts pre-loaded to the app.
If you think that any of your drivers were not up to expectations you can now unmatch with them so your trip requests are never dispatched to them again.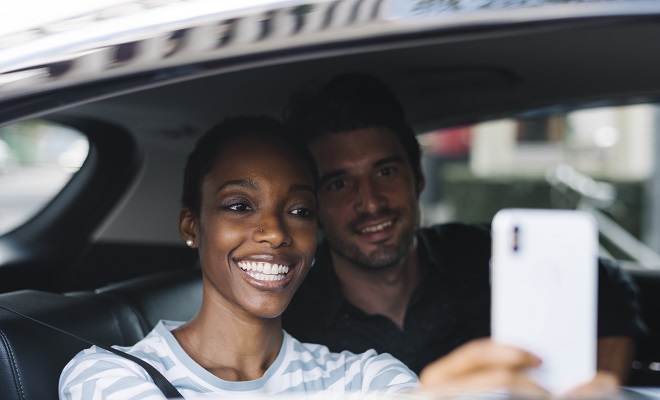 DiDi also offers driver and rider profiles, giving users more information before they even start their travels. The driver's star rating, trip amount, profile photo and car information is shown after the driver accepts your trip. DiDi shows the licence plate number, car model and colour, clearly before every trip.
To ensure all trips connected through DiDi are of the highest quality, all driver-partners are required to pass a series of safety verifications and background checks prior to start driving. DiDi enforces all local government regulations. All drivers must pass numerous document verifications and the required background checks including being accredited to drive in the state they are driving in. There are limitations in the DiDi app to how many hours a driver can be driving for to combat driver fatigue. All vehicles must not exceed the set age of the state they are driving in and must pass an initial inspection and their yearly check-ups.
All cars are sanitised on a regular basis and all drivers wear masks, ensuring your safety.
How To Catch A Ride From DiDi
After downloading the DiDi-Rider app from Google Play or the App Store, first-time users are prompted to create an account. The usual details are asked for: cellphone number, email address, and password – simple enough!
Much like its competitors, DiDi accepts cash or card payments – bank cards can be loaded straight to the app making payment seamless once the ride has been completed. The app provides an estimated price for each trip before the ride is booked. There are two ride options to choose from Standard or Go, with Go being the more afforable option.
The DiDi Difference
In addition to excellent service and affordable fare prices, there are several features in the app that stands out above the rest:
Google Maps integration  — Searching for locations is quick and seamless, and the location tracking during rides are accurate.
Useful safety features — The app features an emergency calling feature that dials 112 and can share your live location on trips with trusted contacts that you add to the app. These contacts get an SMS with a URL linking to a location tracking map that is constantly updated, showing your boarding and disembarking times, time to the destination, and the driver's details.
No hidden or unexpected charges — The amounts deducted from my card matched what was estimated on the app. Tips can be added after the trip as a completely separate payment that must be confirmed after typing in your amount.
Detailed trip history and receipts — The trip history lets you see details like a complete fare breakdown, revealing how your trip's cost was calculated.
Big discounts on first trips — DiDi added R300's worth of coupons to my account to get started on the app.