Easter Baking With The Kids
Chocolate Egg Nests
These little nests are simply adorable and kids are bound to have a blast crafting these delicacies. Add a ring of licorice to the nest to make a basket instead and fill with your child's favourite sweets.
Ingredients: 
225g Chocolate
2 TB Golden syrup
50g Butter
75g Cornflakes
Mini chocolate eggs
Method: 
Line a 12-hole muffin tin with paper cases.
Melt the chocolate, golden syrup and butter over a low heat.
Remove the chocolate from the heat and add the cornflakes. Mix until all the cereal is coated in chocolate.
Divide the mixture between the paper cases and press three chocolate eggs in the middle.
Chill in the fridge for an hour, until nests are set.
Recipe and image sourced from BBC Food.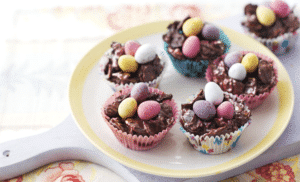 Cake Pops
This recipe is so easy to make that the little ones can do it all by themselves. These pops can be attached to sticks or just left in chocolate and enjoyed. Easter baking sorted.
Ingredients:
1 ready-made cake
230g ready-made icing
250g melted chocolate
Sprinkles
Method:
Crumble the cake and mix with icing.
Roll the mixture into small balls.
Dip the balls in melted chocolate and scatter on sprinkles.
Place the pops on wax paper and allow to set.
Recipe and image sourced from Loaves And Dishes.
Bunny Butt Cupcakes
Who knew a bunny butt could be so cute? Made to look like a bunny digging for carrots, this is the perfect way to decorate some yummy cupcakes for Easter.
Ingredients: 
12 Ready-made chocolate muffins
6 Ready-made vanilla muffins
12 Mini marshmallows
Chocolate cookie crumbs
1 1/2 C Desiccated coconut
300g chocolate icing
250g vanilla icing
350g White chocolate
50g Pink chocolate (available at baking shops)
Method: 
Scoop two balls out of each vanilla muffin using a melon baller.
Ice each chocolate muffin with the chocolate icing and dip in the chocolate cookie crumbs.
Melt the white chocolate and place into a plastic sandwich bag. Snip off a corner and pipe small bunny feet onto baking paper. Allow to cool.
Melt the pink chocolate and place into a plastic sandwich bag. Snip off a corner and pipe small toes and pads onto the white chocolate feet.
Melt the vanilla icing for about 10 seconds in the microwave. Dip the vanilla muffin ball into the icing and then into the coconut. Repeat with the marshmallows.
Using more white chocolate as glue, attach the marshmallows to the centre of a muffin ball.
Place the muffin ball in the centre of the chocolate cupcakes and glue on the bunny feet with more white chocolate.
Recipe and image sourced from Spend With Pennies.
Easter Egg Cookies
For this Easter baking recipe, use shop bought cookies or make a batch of your favourite recipe. Cover a table in a washable cloth and let the kids go crazy crafting their masterful creations.
Ingredients: 
Cookies
2 Egg whites
1 tsp Lemon juice
500g Icing sugar
Food colouring
Decorations
Method: 
Beat the egg whites until frothy.
Add lemon juice.
While beating, gradually add the sugar until combined.
Pour icing into separate bowls and add food colouring.
Put the icing into piping bags.
Decorate the cookies as desired.
Recipe and image sourced from Kidspot Kitchen.
Easter Bark
Finally, we have Easter bark. Not only is this an easy and delicious treat, but it's also a great way to use up any leftover Easter sweets.
Ingredients: 
450g Chocolate
2 C sweets, such as mini eggs, chopped up marshmallow eggs or Smarties.
Method: 
Line a baking pan with baking paper.
Melt the chocolate at a low heat.
Spread the chocolate onto the baking paper. Use a spatula to spread it in an even layer.
Sprinkle with sweets.
Allow to set.
Break up into pieces and enjoy.
Recipe and image sourced from Kitchen Confidante.
Do you have any other Easter baking recipes for kids? Let us know about them in the comments section below!