What Is The Carbon Open Air Drybar?
The Carbon Open Air Drybar provides a safe salon experience outdoors to ensure the safety of customers through open ventilated spaces. The Carbon team have not only taken advantage of online training and skill-improving courses during these crazy times, but also on COVID and the impact it has had on fashion trends, the beauty industry and the world at large. This has ensured that they are always equipped, aware, skilled, and on top when it comes to their industry and COVID implications.
Following strict COVID protocols and regulations, they've created a space that ticks all the boxes in terms of health and safety, and remains professional and unique so that your overall experience is exceptional.
Enjoying & Supporting Nature
As a team, Carbon are constantly looking for innovation, sustainable products, cruelty-free brands and new trends using these brands. In mid 2020, they integrated Kevin Murphy into their retail and colour offering. Kevin Murphy aligns with their 2020/2021 goal of being sustainable, adaptable, and cruelty-free. Kevin Murphy makes every effort to protect the environment by using packaging that's recyclable or biodegradable. They use only natural ingredients from sustainable and renewable sources, that are harvested in a way that does not cause any harm to the environment.
The February launch of the Carbon Open Air Drybar aimed to introduce clients to this new outdoor experience. Here, you will be able to sample the luxuriously crafted selection of anti-bacterial sanitising products provided by French Lemon. This brand is highly focused on adhering to and maintaining the ethics of sustainability. They are vegan and cruelty-free without compromising on that luxurious feeling you expect from high quality brands.
Glampalm came on board to introduce their advanced heat styling equipment. Their heat styling tools have incorporated natural healing stone elements into the ceramic technology while the design is beautifully crafted. They prevent hair damage, add shine and give hair an overall glossy luxurious finish. The Carbon Open Air Drybar team used Glampalm's phenomenal range of straighteners and curling tools to create bespoke styles for guests on the day.
At Carbon, they aim to create a new normal to ensure that you get the hair you deserve, create something fun and positive, while remaining safe and aware of the current situation. They look forward to seeing all clients in their salon for a relaxing, safe, and above all, enjoyable pamper session to unwind in the comfort of Mother Nature.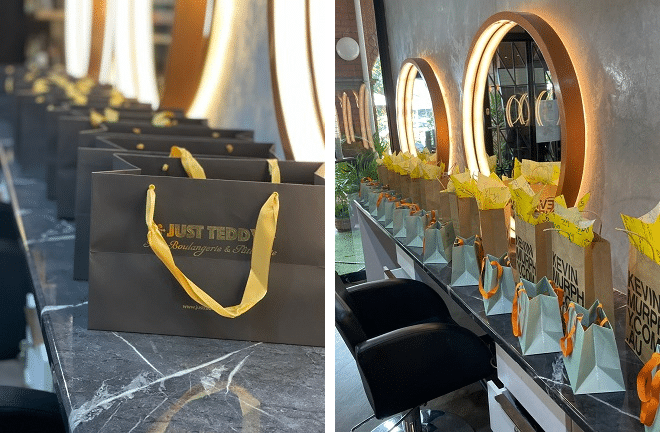 For More Information
For more information about Carbon and their Open Air Drybar, visit www.carbon.joburg.
You can also contact them on 011 268 6855 or [email protected].
Don't forget to follow them on Facebook and Instagram for the latest inspiration, news and updates.