Crispy Waffles & Slice Pizza
This spot seems to be a huge favourite amongst our Joburg North followers. Crispy Waffles & Slice Pizza is located at The Golf Place in Magaliesig, Fourways. We menu offers a delicious selection of both savoury and sweet waffles, as well as a selection of moreish pizzas! Trust us, you'll feel spoilt for choice, everything just sounds so delicious. We have our eyes on the Beach Bum Waffle – banana, chopped almonds, caramel sauce, and choice of either cream or ice-cream and the Californian – chicken, avo, bacon, mayo, and chives. Delicious! Keep an eye out for our review!
Details: crispywaffles.co.za | [email protected] | 0115160783 | The Golf Place, 33 Troupant Avenue, Magaliesig, Fourways.
Louise & Anna
Situated in Craighall Park, you'll find Louise & Anna. Here, they offer decadent fluffy waffles for breakfast! Whoever said you can't have waffles for breakfast was obviously lying! Take your pick from the Bacon Waffle – bacon, fluffy waffle and syrup; the Chicken Waffle – popcorn chicken over a corned waffle served with maple syrup and their signature hot sauce; or the Sweet Potato Waffle – served with zucchini tenders. Savoury waffles for the win!
Details: www.louiseandanna.co.za | [email protected] | 082 883 0195 | 357 Jan Smuts Ave, Craighall Park, Johannesburg.
Moody Cow
For a treat after some retail therapy, Moody Cow at Clearwater Mall is a must! Their menu has a wide selection of waffles ranging from the classics and waffle tacos to waffle cones and bubble waffles. The options are endless! Why not top it all off with a hot cup of coffee or a delicious milkshake? We love the sound of the Mini Waffle World Tasting Platter that serves 2 – 3 people. This includes a selection of four mini waffles from their Waffle World menu.
Details: moodycow.co.za | [email protected] | 010 593 2740 | Shop 137, Clearwater Mall, corner Hendrik Potgieter Road and Christiaan de Wet Road, Strubens Valley, Roodepoort, Johannesburg.
Smoke Daddys – The Crepe Van
At Cedar Square, you'll find Smoke Daddys – The Crepe Van. Indulge a little and enjoy your choice from their selection of tasty waffles, which includes Plain; Strawberry Nutella; Banana Nutella; Apple Crumble; Oreo Cookies and Cream; Banoffee; Mint Crumble; Brownie and Gluten-Free. Other than the waffles, they also offer crepes, ice cream Sundays, gourmet shakes and more. Yum!
Details: thecrepevan.co.za | [email protected] | Cedar Square, corner Cedar and Pommery, 16 Pommery Avenue, Broadacres Park, Fourways, Johannesburg.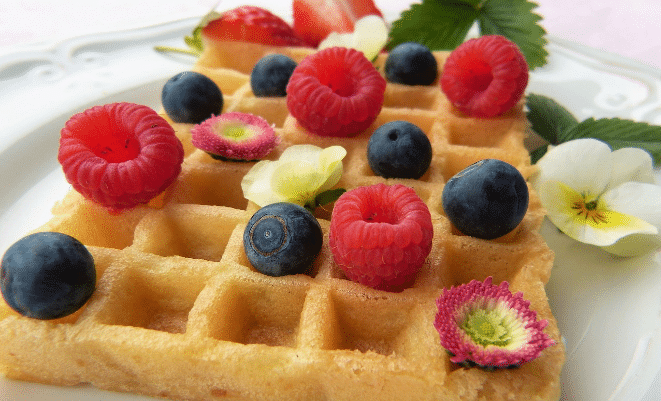 Yummyness
For waffles and crêpes that'll knock your socks off, be sure to visit Yummyness Waffle & Crêpe Bar at 27 Boxes in Melville. Indulge in authentic Brussels waffles and crêpes, topped or filled with a wide selection of deliciousness, whether you're in the mood for something sweet or savoury. There's sure to be something to tantalise your taste buds.
Details: www.yummynesswafflebar.com | [email protected] | 74 4th Avenue, Melville, Johannesburg.
Burgerack
You may be surprised to find out that a restaurant offering burgers, ribs and craft beers in a style reminiscent of RocoMamas would offer waffles. Simple, they are not. Crispy dough accompanied by bold and rich flavours classes those waffles right up. Their Belgian-style waffles are available in a variety of flavours, including Plain, Nutella, Oreo, Bar One & Banana, Choc Mint & Bar One Sauce and Oreo & Bar One Sauce.
Cut & Craft Bistro
How about an all day waffle breakfast? Cut & Craft Bistro in Kensington serves up their gourmet Belgian waffles from open until close, meaning that you can indulge at any time of the day. Throw in a Cut & Craft Freak-Shake for the ultimate indulgence. Our top pick from their menu would be the Chocolate Bomb - a classic Belgian waffle topped with chocolate brownies, chocolate sauce and Whispers on cream! You can also customise your meal with an assortment of extra toppings from the menu.
The Waffle House in Hartbeespoort

Sundays are made for little road trips to Hartbeespoort. Driving through Magaliesberg is part of the experience. It is one of the best ways to take in the wonderful flora of the deep west of Johannesburg's surrounds. The Waffle House makes it all worth the drive!
French Toast Koffie Kafee
Another one of Hartbeespoort's beloved restaurants that serves a mean waffle is the French Toast Koffie Kafee situated at Little Paris. This charming café offers traditional French fare including crispy croissants, syrupy French toast sticks and cheesy croque monsieur. Bring your special someone to enjoy an early morning brekkie here before heading out onto the famous lover's lock bridge.
Kota Joe Roadhouse
Kota Joe had us drooling when reading their menu. If you are looking for a delicious waffle on a stick, this is just the place for you. These golden morsels are available in various flavours, such as Smores and Biscuits, White Chocolate and Oreo and Cinnamon Sugar and Syrup. But our favourite is the Nutella Bar One and Banana Waffle. Served with a scoop of ice cream, this makes for a delicious treat. If you haven't tried it out yet, we highly recommend you give them a shot.
Fab!
You really couldn't have chosen a better spot for an ice cream and waffle place than Fab! in Linden, which is situated pretty much next to a primary school! This cheerful spot serves delicious sweet treats and stays open till late - so you always know where to go when an evening craving hits.
The Whippet Coffee
We end off this tour at the Whippet Coffee in Linden or Melville. A super popular brunch hangout, this boutique coffee shop and cafe recently introduced a new item to their menu - the waffle sandwich. A crisp hot cake served with salty bacon, creamy Camembert cheese, mixed berry compote and a soft fried egg. Never has there been a more perfectly balanced breakfast dessert in history! Sweet, savoury and tart - what more could you ask for?
Milky Lane
Say what you like about Milky Lane, its still synonymous with fantastic waffles. Cheap, cheerful, and a hit with the kids - a trip to Milky Lane never disappoints. Even better, they deliver on Mr D or Uber Eats - so you can get waffles wherever you happen to be!
View this post on Instagram
Have you been to any of these awesome waffle joints? Let us know in the comments section below.