Bedford Square is an open-air piazza and restaurant hub. This is the ideal spot for date night, family dinners or a mid-week movie treat at Ster Kinekor Cinemas. With the likes of Mythos, Lupa Osteria, Catch and Europa on the Square, this is where fine dining lives at Bedford Centre. There is also an outside play area for the kids, making it a hive of activity. However, there has always been one thing missing from this picture - gourmet coffee on the go!
On Friday, 6 December 2019, Bedford Centre announced their latest addition to the Square. Starbucks SA officially opened their doors over the first weekend of the holiday season. Situated between Ster Kinekor and Virgin Active, Starbucks brings a welcome change to the Square. Offering shoppers that much-needed pick-me-up and active gym bunnies their morning cuppa, Starbucks on the Square is sure to be a hit with young and old.
Festive Cheer! 
We all know how tedious Christmas shopping can be. Take a load off at Starbucks on the Square this Christmas. Not only do they have four new delicious hot drinks to prep up your day, but they are offering great deals on merchandise and their signature brews.
Try out the new Toffee Nut, Vanilla Cardamom or Gingerbread Lattes or the Toasted Marshmallow Hot Chocolate in between shopping sprees this December at Starbucks. Classic espresso and steamed milk are infused with wintery spices and topped with whipped cream. Paired with any one of their yummy pastries, these drinks will have you in the Christmas spirit in no time! They come piping hot in adorable red, green and white Christmas cups. However, for the eco-conscious coffee connoisseurs out there, Starbucks also has a great deal on their reusable cups. Available for only *R29, this is a Christmas steal. Plus, you get R2 off each purchase every time you bring your cup back to Starbucks for reuse!
To welcome in their new customers, Starbucks on the Square have also stocked up on their signature vintage Christmas blend. This beloved brew, first scooped in 1984, is a Starbucks holiday tradition known for its full-bodied flavour that compliments nearly everything on your holiday table. What began with an original Christmas Blend has expanded to new varieties like Starbucks Reserve™ Christmas and Starbucks Christmas Blend Espresso Roast with fresh takes on the classic recipe and roast. Pick up a bag of these holiday blends at Starbucks on the Square and surprise a coffee lover this Christmas. Or, add it to your own stocking, we promise not to tell!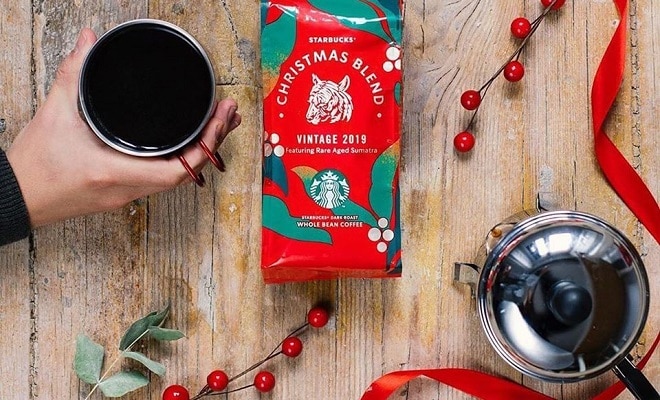 For More Information
For more information about Starbucks at Bedford Square, follow Starbucks SA or Bedford Centre on Facebook. You can also visit their website at www.starbucks.co.za.
Details: Shop F2, Bedford Square, Cnr Smith & Van der Linde Rd, Bedfordview, Johannesburg | 010 020 8992 | [email protected]