Sky Dining at Higher Ground
Whether you'd like to start off the celebrations with a champagne breakfast with a sky-high twist or would like to end off the party with stunning view of Joburg's night sky, Sky Dining at Higher Ground in Bryanston is just the thing. It's a dining experience that the bride/groom will never forget. And, if the bridal couple are looking to enjoy a joint party, then this is a great option! Visit the Sky Dining website and take a look at what's on the menu, the cost per person, as well as the dates that this experience is available to be booked.
Beefcakes
Beefcakes is perfectly positioned in Joburg's upmarket hot spot, Illovo, and is a fabulous bachelorette party outing if you need to experience some fun drag dining. All the waiters are buff men who begin the night in tank tops (hello, gun show) and end it shirtless. A little bit of harmless cheeky fun never hurt anyone! Be sure to check out their Facebook page to keep up to date with what's happening at each of their branches events-wise. There's plenty of  entertainment and themes, ranging from drag shows to quiz nights… all in all, a fun night out is guaranteed. Oh, and don't forget to order one of their moreish burgers and refreshing cocktails!
Saddle Creek Ranch
How about going on an exciting outdoor adventure, doing some fun-filled and unique activities? If this sounds up your alley, then be sure to book something thrilling and adventurous at Saddle Creek Ranch in Hekpoort. Spend the afternoon either quad biking, horseback riding, laser clay pigeon shooting, and even trying out some archery! Not only will this bring out your adventurous side, but it'll also offer plenty of unique entertainment for everyone at the bachelor and bachelorette party. Do keep in kind that all activities need to be booked prior to your set date of the bachelor/bachelorette party.
Cheeky Chicks
Who says that you need to go out to have an epic bachelorette party? You can plan something extra special at home or at a rented venue of your choice and let Cheeky Chicks take care of all over the entertainment. Cheeky Chicks is brings brides-to-be and her bridesmaids ladies-only events that's sure to have you all talking and reminiscing over for years to come. There's something for every type of bride and/or get-together. You can opt for something cheeky with their Burlesque Boudoir Party or simply delight the taste buds with a Champagne & Chocolate Party.
Vegas Nights
For an unforgettable casino gaming themed bachelor party to celebrate the man of the hour, be sure to contact Vegas Nights! They tailor make each individual package to suit your budget and your needs. So, whether you're looking to plan something at home or at a hired venue, this will make for a unique and cool party idea. Games that they supply include Blackjack, Texas Hold'em Poker, Roulette, Craps, Wheel of Fortune and even a Money Blowing Machine! Contact them to discuss what they can do for you and also get a quote.
Play Some Paintball
Get the bride- or groom-to-be dressed up in their party outfits and take them to a paintball field where you'll all have a blast having some outdoor fun and competition. Luckily for us, there are plenty of paintball facilities in and around Johannesburg. All you have to do is click here to see a handful of them, pick the one you'd like to visit, make your booking, shop for the bride's/groom's colourful and/or funny outfit for the party and enjoy!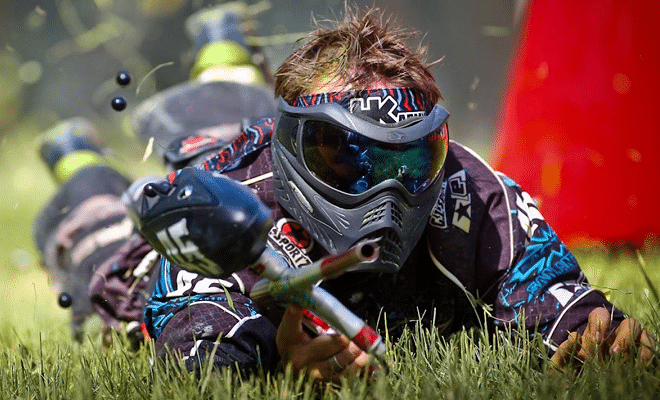 Jozi X Adventure Centre
What we love about Joburg is the fact that there's always something fun and exciting to do! And if you're looking for even more adventure, the Jozi X Adventure Centre is a must! There's a wide variety of activities for visitors to enjoy, ranging from nerf wars, zorbing and obstacle courses to bubble soccer and much more. If this sounds like something you'd like to incorporate into your bachelor/bachelorette party plans, then visit their website to book your activities now.
A Bachelorette High Tea
For a bachelorette party idea that's perfect for all ages, why not book a decadent high tea? Not only will this be a great opportunity to get to now the bride's family and friends, but you'll also have a lovely time indulging in some sweet and savoury treats and sipping on some hot tea. To find a high tea spot in the city, click here to take a look at your list of High Teas in Joburg, each with their own special offerings and ambiance.