These events have expired
Garden of Lights at Emperors Palace
Date: 08 December 2017 – 03 January 2018, open daily from 19:00 – 22:00
This one is a given! The Garden of Lights, set up in the picturesque gardens of the five-star D'oreale Grande Hotel, is an absolute must this holiday season. Experience a winter wonderland, light extravaganza filled with yuletide adventure for both young and old, and lots of fun activities for the whole family. Tickets cost R25* per person and the Festive Family Package (for a family of five) costs R100. Get your tickets at Tixsa. Proceeds from this event will go to CANSA and the Peermont Children's & Education Funds.
Christmas Lights Galore at Melrose Arch
Dates: 16 November 2017 – 03 January 2018
For even more festive cheer, don't miss out on the Melrose Arch Christmas light display. Children of all ages will be in awe of the magical twinkling lights in the shape of festive baubles, fairies, a giant teddy bear, shiny stars, reindeer and so much more. There will also be a variety of family fun on offer, including choirs, carols, street entertainment, magicians and visits from Santa Claus every weekend!
Sandton City Festivities
Date: 03 December 2017 – 24 December 2017
Kids will have an absolute blast at Sandton City this holiday season! From The Most Spectacular LEGO® Event and photos with Santa Claus to Nickelodeon's Shimmer and Shine meet-and-greets, Hamleys Train rides, a life-sized snow globe and much more, there's loads of fun and excitement to keep the little ones entertained while you shop up a storm.
Eastgate Adventures
Dates: 08 – 24 December 2017
Expect lots of adventure, special visits from Santa, meet-and-greet sessions with Gumball, and so much more at Eastgate this December. There will also be dance competitions, quizzes and games to keep the kids entertained while finish your festive shopping, not to mention the chance to meet one of the world's most famous bears, Paddington Bear!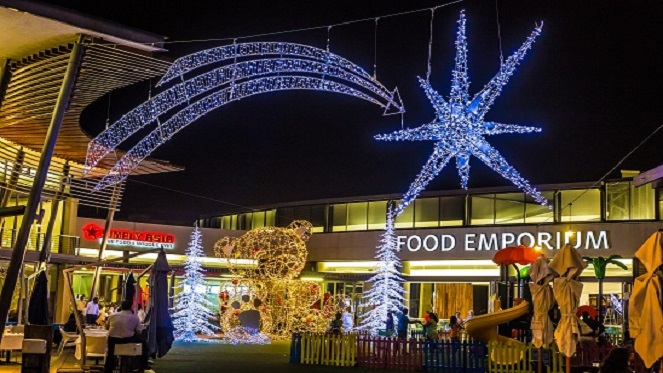 Hilltop Friends Holiday Fun
Date: 08 December – 15 December 2017
If you need ideas on keeping your children entertained, then check out Hilltops Friends Preschool and Playschool in Douglasdale. They are running a holiday program for children aged  12-months to 10-years-old for either a half day or full day of fun. The kids will love all the Christmas arts and crafts, games, singing and dancing on offer!
Sunxyne Holiday Club
Dates: 11 December 2017 – 22 December 2017
This fun and educational holiday programme at Calvary Methodist Church in Midrand is ideal for children between 5 and 12 years of age! The wide range of activities on offer includes arts and crafts, yoga, baking and cooking, drama, music, scientific experiments, trips to the theatre, visiting the zoo and watching movies. There will also be a line-up of organised games, story time and free play, as well as a morning and afternoon snack! The cost is R280 per day. Email [email protected] for more information.
Yoga4Kids
Dates: 12 – 14 December 2017; 19 – 21 December 2017; 09 – 11 January 2018
Yoga4Kids has some exciting workshops available at the Good Vibrations Health Sanctuary in Rivonia. Every workshop day will run from 09:00 – 12:30 and offers kids a space to enjoy yoga, dance, mindful activities and games. Enrolment is on a first-come-first-served basis, so make sure you register ASAP. The cost is R1 650 per workshop or R550 per day/drop in.
Bright Young Chefs
Dates: 05 – 08 December 2017; 08 – 12 December 2017; 11 – 15 December 2017; 18 – 22 December 2017; 08 – 12 January 2017
Do your children enjoy cooking and getting their hands dirty? Of course they do! Bright Young Chefs will be hosting a holiday baking workshop for kids over the age of three. The cost is R150 per session (three hours long) per child, which includes a chef's hat, use of all the equipment and ingredients needed, refreshments, aprons (for use only) and takeaway containers. They'll have lots of fun baking Christmas Tree brownies, gingerbread cookies, cupcakes, fruit mince pies, and even a Christmas Cake. Yummy!
iJump
Date: Open every day from 08:45 – 20:00 depending on the day
This is a great way to get your kids away from the Play Station/Xbox/Switch/TV and all other electronic devices. At iJump, they can burn off some steam by jumping on trampolines, diving into foam pits, getting their adrenaline pumping with extreme jumping, joining in fitness classes and so much more. You can find iJump at Clearwater Crossing, East Rand Mall and The Glen. Weekday rates are R50/hour* for kids aged between 2 – 5 and R100/hour from kids aged 6 and older from Monday to Thursday. Make sure you get the iJump grip socks for R20pp (not included in the entry fee).
The Ski Deck
Dates: 7; 12; 14; 19; 21; 26; 28 December 2017 and 4; 9; 11 January 2018
Seeing as though it hardly ever snows in Joburg, we need to make a plan when it comes to experiencing those wintery and festive activities we see in the Northern hemisphere. Thankfully, the Ski Deck in Ferndale offers visitors the chance to ski, snowboard and bum board! For just R100 per child, kids aged 3 and up an bum board to their heart's content. There's also a play area complete with jungle gym, trampoline and zipline. Booking is essential.
*Prices correct at time of writing