Arctic Justice Is A Must-See This January
In the beautiful, remote Arctic village of Taigasville, a tiny fox named Swifty has big dreams of becoming a Top Dog - celebrity husky courier dogs, and town heroes, that deliver life-saving goods in the harsh and frigid tundras.
Swifty gets a job working alongside the Top Dogs at the Arctic Blast Delivery Service (ABDS). There, he becomes friends with P.B. (a thoughtful polar bear), and Lemmy (an absent-minded albatross). Swifty is just a low-ranking lever puller, but he's determined to work his way up.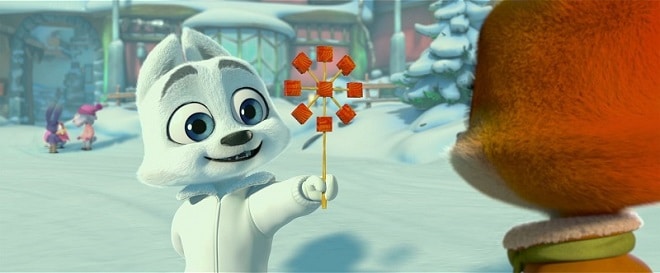 To impress his crush, Jade (a worldly red fox), Swifty steals an ABDS sled to deliver an urgent package for her to a mysterious dwelling in the middle of nowhere. After the ABDS's strict manager, Magda, catches him boasting, she suspends Swifty from work.
Swifty is soon captured by Bertha and Leopold, two nutty conspiracy theorist otters, who recruit him to uncover some sinister plans, which seem to be connected to the Arctic's rapidly rising temperatures. Swifty investigates and learns that the Top Dogs have abruptly quit. Pitching himself as the town's only delivery solution, Swifty is soon back at the remote dwelling, the secret cave of Otto Von Walrus!
Otto Von Walrus is a blubbery evil genius with an adorable army of puffin assistants. Swifty stumbles upon Otto's master plan: to drill beneath Taigasville, unleash enough ancient gas to melt the Arctic and become its ultimate ruler!
Swifty and his ragtag group of friends must band together to fight an epic battle. It's only when Swifty embraces his natural abilities that he is able to save Taigasville—and the Arctic—from utter destruction.
The Cast
Jeremy Renner as Swifty (Academy Award Nominee®),
Heidi Klum as Jade and Bertha (Emmy Award Winner®),
Alec Baldwin as P.B. (Academy Award Nominee®),
John Cleese as Otto Von Walrus (Academy Award Nominee®),
James Franco as Lemmy (Academy Award Nominee®),
Omar Sy as Leopold (Cesar Award Winner®),
Angelica Huston as Magda (Academy Award Winner®),
Michael Madsen as Duke,
and Laurie Holden as Dakota.
Don't Miss It!
Arctic Justice is in cinemas from Friday, 24 January 2020. This winter adventure is an absolute must for the whole family!
For More Information
For more information about Empire Entertainment and Arctic Justice, visit them on: