The Vaal Easter Show
Date: 15- 18 April 2022
If you're looking for some egg-citing fun for the whole family, then be sure not to miss the Vaal Easter Show. Expect plenty of entertainment, all in one place, such as a soft play park, a beer garden, a food and candy court, carnival rides and picnic area, board games, inflatables, and exhibitions and much more! Tickets cost R120 per child, pensioner, and disabled persons (children aged 0 – 2 years old get in free); R150 per adult; and R420 for a family of 4. The price includes all rides in the park. Tickets are available at Computicket. Food and drinks will be sold inside. Please note: No picnics, food and beverage is allowed to be brought onto the complex.
Easter Egg Hunt
Date: 17 April 2022 from 11:00 – 14:00
The hunt for chocolate is on this Easter, at Emerald Resort & Casino! Find the mascots in Animal World and collect your Easter egg. Cost is R65 per adult and R45 per child under the age of 12 (includes access to Animal World). You can get your tickets at Animal World or on the day or register at the Putt-Putt booth for a FREE Easter Egg hunt from 10:00 – 14:00 also on Sunday, 17 April 2022. No bookings needed, first come first served.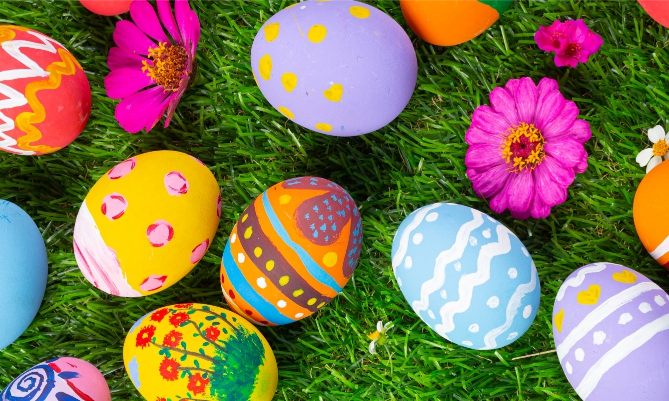 Colour Fun Run
Date: 18 April 2022
Expect a morning full of colour and fun! You can hop, run, walk, or stroll – it's entirely up to you how you want to cross the finish line. Don't miss this unforgettable experience, perfect for the whole family. And for egg-stra fun, they've added an adventure or two along the way. Cost is R120 per adult and R80 per child under the age of 12. The price includes, entry into the Colour Fun Run, access to Animal World Zoo, Putt-Putt and Wall-climbing. You will also get 50% discount at the Aquadome on the day. The route is 4km and kicks off at the hotel between 07:00 and 08:00.
Vaal Highland Gathering
Date: 23 April 2022
The Vaal Highland Festival and Gathering has become one of the largest events in the Vaal area and will be held at Emerald Casino in Vanderbijlpark once again. The Pipe Bands that were staged at the last gathering were a great success and they are expecting a much larger contingent of Pipe Bands and Scottish Dancers this year. Local live bands will keep everyone entertained in the evening, including performances by Sean Miles, Dave Begg, Liz, Connie and The Helicopters. There will be numerous food and refreshment stalls from a taste of Scotland – think Black Pudding, haggis and Scotch eggs to bacon, boerewors rolls, jaffels and prego rolls. There will also be numerous arts and craft stalls, a beer garden whisky and wine tasting, and a children's play area. Get your tickets at Computicket.
High Stakes Food & Wine Tasting
Date: 28 April 2022
Don't miss this food and wine experience, presented by High Stakes's top chef and the Delheim wines estate. High on the slopes of the Simonsberg Mountain, 50km from Cape Town, lies the family-owned Delheim Estate. Here, the Sperling Family have been making wines of character for many decades. The chef at High Stakes has prepared a fabulous four-course menu to pair perfectly with these iconic wines of characteristic style, exclusivity, and generosity. This wonderful evening takes place Thursday, 28 April 2022 from 18:30 at R370 per person. Bookings essential and no under 18s allowed. To book, contact 016 982 8149 or [email protected].
For More Information
For more information about Emerald Resort & Casino, visit www.emeraldcasino.co.za.
You can also call them on 016 982 8000 or email [email protected].
Don't forget to follow Emerald Resort & Casino on their social media platforms – Facebook, Instagram and Twitter – to keep up to date with the latest news, events, offers, information and more.