Is It Time For A New Mattress? 
It's not every day you wake up and think, "Let's buy a mattress!" Yet every 8 years this is exactly what you should consider. Even the best need replacing at some point. A leading sleep scientist like UCT's Dr Dale Rae will always ask the practical question: "How's the quality of your mattress holding up? Many things may interfere with your sleep and a poor mattress is one of them. Not being comfortable during the night can fragment your sleep, leaving you feeling unrefreshed in the morning."
So, when should you replace your mattress? Think of it like new car tyres. You can tell the difference of a solid tread. You feel in control and more secure. But are you still thinking about your tyres 30 000 kilometres later? Not likely. Yet they are essential your safety on the road.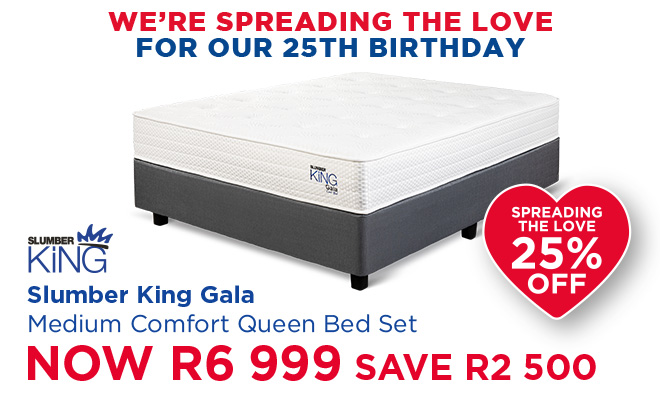 A new mattress affords a wonderful, quality night's sleep. Getting into bed is an event. Months later, the novelty wears off. Years after, the niggles start. A quality bed is designed to accommodate the contours of your natural sleeping position. It provides the right support and comfort. With normal wear and tear, that begins to sag.
Consider that your body changes over the years. Your preferences may differ since you last bought a mattress. Come to the trusted experts at Dial-a-Bed and explore the widest range of local and international brands. Feel the difference in superbly purpose-designed bedding. You will find the quality tested mattress that's just right for you.
Shopping on a budget? No problem. With Dial a Bed you can invest in a top-quality mattress and still have money to hide underneath it. Shop online by brand, size, and budget at www.dialabed.co.za.
Don't Miss Their Birthday Sale!
Find the best mattress for you! Shop their Birthday Sale, and SAVE BIG! They're turning 25, so they're giving you 25% off their best sellers!
Get a Sealy Strato Plush Queen Bed Set from only R7 999 or a King Koil Plush Queen Bed Set from only R9 999!
Or maybe you want to indulge on a Simmons Sensory Lux Plush, King extra length bed set from only R25 499.
They have so many AMAZING birthday deals, all available until 31 October 2021.
Shop now at any one of their 66 stores nationwide or shop online 24/7 on www.dialabed.co.za.
You're not just buying a mattress. You're buying 8 more years of happiness!
For More Information
For more information about Dial-a-Bed and their amazing Birthday deals, visit their website at www.dialabed.co.za.
You can also contact them on 086 100 7542 or [email protected].
Don't forget to follow and like them on Facebook, Instagram, Twitter and YouTube to keep up to date with the latest news, offers, sales and Black Friday information.
Dial-a-Bed has over 66 stores nationwide. Click here to find you're nearest store.