Disney Charity Trees
This year, a giant Christmas tree takes pride in the Lacoste Court, adjacent to Nedbank. But, this is no ordinary Christmas tree, this one is decorated with Disney-themed plush toys (very kindly sponsored by Nedbank) and oversized polaroid photos. Right up until Christmas Eve, each toy can be purchased for any one of the recipients whose photos decorate the tree as part of a CSI initiative between Rosebank Mall, Nedbank and Smile Foundation. All donations from the tree will also go to Smile Foundation and all the plush toys will be gifted to the recipients on Christmas Eve.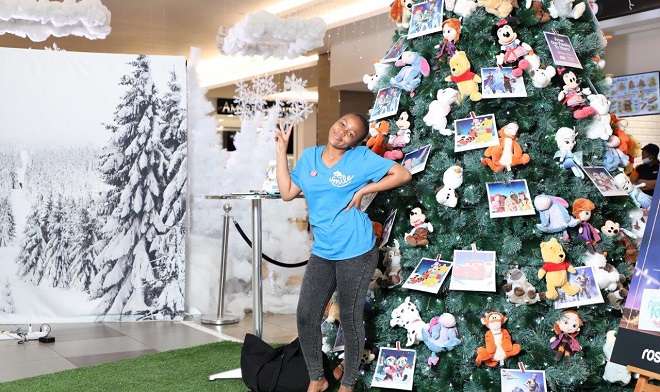 Say Cheese!
Of course, memories are priceless too, so visitors are encouraged to take a photo at the Disney Charity Tree and post it on Instagram and tag @RosebankMall before 15 December 2021 to stand a chance of winning a great Disney hamper which includes a R1 000 gift card from each of the seven Hyprop Malls participating in this.
Tired of trying to take family photos which end up with half the family's eyes shut, someone's head being cut off and at least one silly face being pulled? We've all had these disasters! If you really want to make this a Christmas to remember, you can have a festive family photo taken by a professional photographer in the Photo Lounge, located on Level 2 next to the Disney Tree (opposite Lacoste and Lindt). Festive family photos can be sent in digital format or printed to pop into a beautiful picture frame and admired for years to come.
Rosebank Mall's new selfie concept store, InstaNation, has opened on Level 4. InstaNation also set up a mini-selfie installation on Level 2 opposite Mugg & Bean.
Now, That's a Wrap!
Rosebank Mall is all about making Christmas stress-free, too. In partnership with Hyprop Foundation, gift wrapping stations will be located on Level 2 next to CNA and Level 3 next to PNA until Christmas Eve. All proceeds collected will be donated to the SPCA.
Making It Personal
That personal touch can make a relatively inexpensive or ordinary gift, wonderfully meaningful. Rosebank Mall has partnered with student graphic designers to personalise any item or gift bought at any store within Rosebank Mall at a 50% discount. And if that gift happens to be a Disney item, they will personalise that item for FREE!
Please note: Items must be bought at Rosebank Mall between 25 November and 24 December 2021.
VR In Real Life!
Tech experience agency, Thought Dot Africa, are currently showcasing a new approach to education in the Town Hall space at SOKO District on Level 2 until Friday, 31 December 2021. Visit them for unique experiences that are fun for the whole family including:
VR
Coding for kids
3D Printing
Robotics (for kids & adults)
So, jingle all the way to Rosebank Mall for a festive season of family fun that gives you all the feels, too!
For More Information
For more information about Rosebank Mall, visit www.rosebankmall.co.za.
You can also contact them on 011 788 5530 or [email protected].
Don't forget to follow and like Rosebank Mall on Facebook, Twitter and Instagram.
WIN!
One lucky reader stands the chance of winning a Rosebank Mall Festive Hamper to the value of just under R1 000. The hamper includes:
A voucher to have a family photo taken at the photo booth
A voucher to have items personalised
A note saying that they can take their gifts to be gift wrapped and a donation will be made to the SPCA on their behalf
A VR experience
As well as other exciting goodies in a hamper.
To enter, simply follow the steps below: 
Follow these accounts on Instagram: @rosebankmall and @joburg.co.za if you're not already.
Like this post and tag the friend so they can also enter and stand the chance of winning.
Bonus entries if you share this post to your stories and tag both accounts.
The competition closes on Friday, 17 December 2021 at midday!
Good luck!
Please note: Winner will need to collect their hamper from the Rosebank Mall Management Offices.