Celebrate The End of 2020 With Fairlawns
Enjoy Some Live Entertainment
Entertainment events at Fairlawns this November and December includes live performances by the eclectic Jazz trio – Bisoux. Not that they need an introduction, but this stellar jazz ensemble features Roland Moses on keys; Amaeshi Ikhechi on bass; with lead vocals and Latin percussion by the stunning Wendy Allen Twyford.
Wind Down On The Terrace
Indulge in a delectable à la carte Sunday lunch on the sunny terrace, overlooking the beautiful manicured gardens every Sunday from 12:00 with relaxing jazz to enjoy in the background. This is the perfect way to end a week with family and friends.
A Picnic-Style Dinner With Fine Live Music
Alternatively, you can enjoy an evening with father and daughter duo – Adrian and Emma-Jean Galliard – who are undoubtedly born entertainers. With over 11 000 YouTube subscribers, their star is on the rise. Experience them live at Fairlawns Boutique Hotel on Friday 20 November 2020 while enjoying a sumptuous picnic-style dinner served on the lawns.
Lazy Days & Lawn Blankets
The Lazy Days & Lawn Blankets picnics are the best way to spend a Sunday afternoon. Hosted every last Sunday of the month in collaboration with Inverroche, this fantastic picnic experience includes live entertainment and a delicious picnic menu served on the lawns. For a superb outdoor experience, watch the Fairlawns social media pages and visit their website for more information as each picnic date is revealed.
Functions at Fairlawns
Fairlawns Boutique Hotel offers a delicate blend of luxury and convenience with their professionally serviced events facilities. Fairlawns is perfectly suited for year-end functions, intimate weddings and special events, with two event rooms and various special occasion spaces of every nature.
Relax & Unwind At Fairlawns
A visit to Spa at Fairlawns is an absolute treat, but don't just take our word for it, let the awards speak for themselves. The Spa at Fairlawns was awarded with Best Luxury Hotel Spa: Africa at the World Luxury Spa Awards. There's simply no better way to unwind from Johannesburg's hustle and hustle than the beautiful setting of our Spa, with its relaxing outdoor facilities.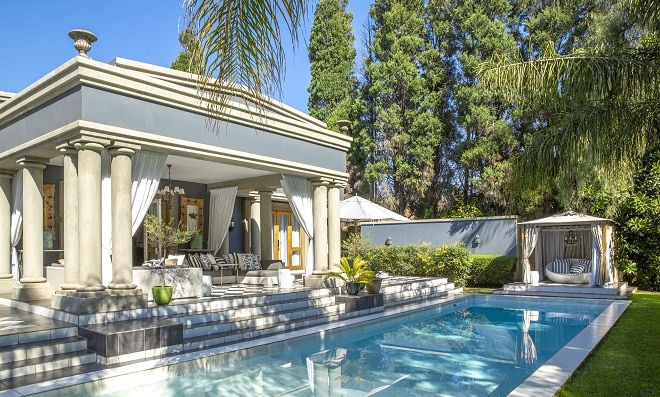 Please note: Social distancing and strict hygiene standards will be in place. Groups of no more than 10 permitted, and every event limited to 50 people. There is limited availability so we recommend an early booking to avoid disappointment. Terms & Conditions apply.
For More Information
For more information about Fairlawns Boutique Hotel & Spa, visit fairlawns.co.za.
You can also contact them on 011 808 7300 or [email protected].
Don't forget to follow Fairlawns Boutique Hotel & Spa on Facebook, Twitter and Instagram to keep up to date with the latest offers, events and news.